As Israel Faces Drought, Netanyahu Offers Iran Help in Tackling Water Crisis
The Israeli prime minister is currently running an active diplomatic campaign against Iran's leadership, most specifically against the nuclear program deal, from which the U.S. announced it is withdrawing in May
Israeli Prime Minister Benjamin Netanyahu has addressed the Iranian people offering assistance, in the form of Israeli technologies, to tackle Iran's water shortage. In a video posted on Facebook Sunday, Mr. Netanyahu said he is committed to saving the lives of countless Iranian citizens that "are victims of a cruel and tyrannical regime that denies them vital water."

For daily updates, subscribe to our newsletter by clicking here.

Citing the Iranian meteorological organization and agriculture officials in the country, Mr. Netanyahu said that nearly 96% of Iran is currently suffering from some degree of drought and that 50 million Iranian citizens could be driven out of their homes due to environmental changes. "Israel has the know-how to prevent an environmental catastrophe in Iran. I want to share this information with the people of Iran," he said. "Sadly, Iran bans Israelis from visiting, so we'll have to get creative," he added.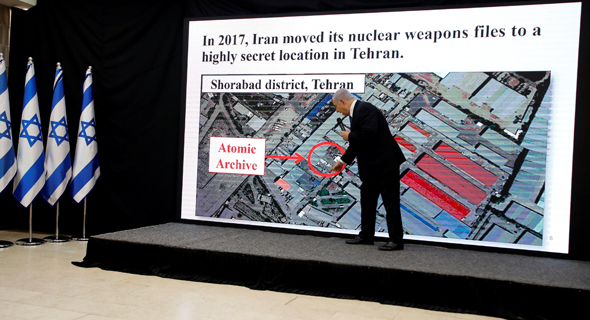 Israeli Prime Minister Benjamin Netanyahu giving a public presentation on Iran in April. Photo: Reuters

Attached to the video were links to a Farsi-language page dedicated to water shortage on a government website and to an official Telegram chat page targeting Iranian citizens.

"The Iranian regime shouts 'death to Israel,' in response, Israel shouts, 'life to the Iranian people,'" Mr. Netanyahu said in the video.

Mr. Netanyahu is currently running an active diplomatic campaign against Iran's leadership, its involvement in Syria, and, most intensely, against the nuclear program deal. Iran signed the deal in July 2015 with the U.S., Russia, China, France, the U.K., and Germany. Mr. Netanyahu's government has been calling these countries to reexamine the deal ever since, and in May, U.S. President Donald Trump obliged, announcing the U.S. is withdrawing from the deal.

Israel has known its fair share of water shortage. However, the country has an extensive water technology industry which includes seawater desalination and recycling and reusing of 90% of the country's wastewater for agriculture, Mr. Netanyahu said in the video.

These policies helped Israel avert crisis during the seven-year drought which began in 2005. In the past four years, however, the country is once again facing water shortages caused by a long drought, which urged the Israeli government last month to relaunch a television, radio and billboard campaign titled "Israel is drying out… again." The campaign encourages civilians to save water by reducing their shower time by two minutes, watering their gardens in the evening and fixing leaking pipes.

On Sunday, the government approved an emergency plan to deal with the effects of the drought. The plan includes reaching a desalination destination of 39,000 million cubic feet (1,100 million cubic meters) a year by 2030, nearly double the current capacity, by establishing two additional facilities. As part of the plan, within four years, Israel will stream 3,531 million cubic feet (approximately 100 million cubic meters) of desalinated water into the Sea of Galilee, the country's main drinking water source, which is currently at a dangerously low water level of 689 feet below sea level. Additionally, areas currently reliant on local water sources will be connected to the nation-wide system and seven rivers in the country's northern regions will undergo a rehabilitation process.

Israel and Iran have been taunting each other on social media for some time, the latest incident being a tweet by Iran's Supreme Leader Ali Khamenei from early June in which he called Israel "a malignant cancerous tumor in the West Asian region that has to be removed and eradicated." The account of Israel's U.S. embassy was quick to reply with an animated GIF depicting an iconic scene from the 2004 American teen comedy "Mean Girls," in which a teenaged character asks "why are you so obsessed with me?"