Interview
The World According to China's No. 1 Travel Agent
No one can ignore the Chinese tourist, says Jenna Qian, CEO of destination marketing at China's largest travel agency Ctrip
In 2014, Shanghai-headquartered Ctrip.com International Ltd., the largest online travel agency in Asia, launched a unique, first of its kind travel package in China: 88 days around the world, priced at $200,000. The company deliberated whether such a product would even have a market.

For daily updates, subscribe to our newsletter by clicking here.

"How long do you think it took to sell the 22 tickets issued for the first trip?" asks me Jenna Qian, Ctrip's CEO of destination marketing, when we meet at a coffee shop in central Beijing.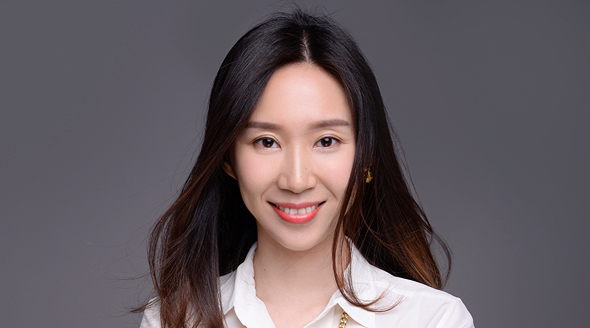 Jenna Qian, Ctrip's CEO of destination marketing. Photo: PR

"Around a week," I hazard a guess.

She smiles at me, and then answers: "17 seconds."

The dizzying speed at which Ctrip's tickets sold is an extreme example of the most significant phenomenon the global tourism industry is experiencing today: the enormous demand seen from Chinese tourists for trips outside of China, evidenced in the number of tourists and the money they spend, and also in the rate at which both parameters are growing. In 2017, Chinese tourists crossed China's borders 131 million times, according to the UN's World Tourism Organization, a 7% increase from 2016. They spent $258 billion in total during those trips, almost double the total of American tourists and three times the total of German travelers.

"Chinese tourists are the most powerful single source of change in the tourism industry," said Taleb Rifai, then the secretary general of the organization, in an October 2017 interview with South China Morning Post.

These tourists are a driving force of growth not just specifically in the tourism and hospitality industries. Hotels, restaurants and a wide range of retailers at a variety of countries are adapting to the Chinese tourist, enabling the use of popular Chinese mobile payment apps and employing Chinese speakers as service providers. It's only the start: just 9% of Chinese citizens have a passport currently, compared to 40% of Americans.

And Ctrip is riding the tourist wave. It is now one of the largest online travel companies in the world in terms of market capitalization—almost $25 billion on Nasdaq—second only to Booking.com. It employs some 30,000 people and reported revenues of around $4 billion last year, compared to $64 million a decade ago.

In this thriving mechanism, Qian is a key figure, helping destinations around the world market themselves to Chinese tourists. But when referring to the Chinese tourist boom, Qian goes for the understatement, simply saying that no one can ignore the Chinese market today due to its size.

While China's status as the most populous country in the world cannot be discounted, there are two other factors that play a major part. The first is the rise of a strong middle class—estimated to count 400 million people by 2020—for which a trip abroad has become a status symbol. The second is more relaxed regulations regarding tourism: in 2000, only 10.5 million trips across the border were recorded, according to China's national tourism administration, and most of those were either in some official capacity or family visitations approved by the government.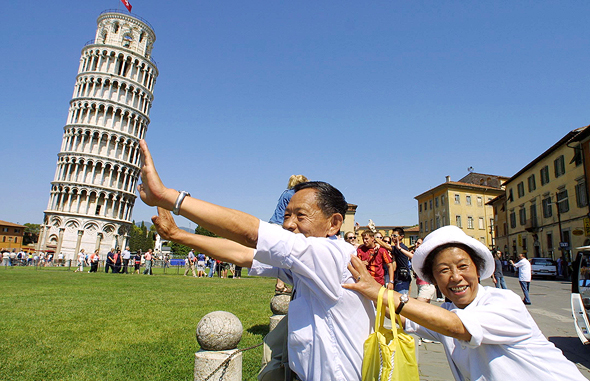 Chinese tourists, Pisa, Italy. Photo: Getty Images

In the past, Chinese tourists could only visit 10 approved countries. The change started in the middle of the previous decade, and today Chinese tourists can—and do—fly all over the globe. A 2017 Chinese tourism Survey issued jointly by Nielsen and Alipay showed that respondents planned to visit on average 2.7 locations outside the country in 2018.

"A lot of people I know could be traveling every weekend. They can go to different destinations, to Japan, Korea or domestic destinations," says Qian, who belongs to the new generation of affluent young people. Buying a house is still important in China, she explains, but many second-generation city dwellers, whose parents saved up, have their priorities elsewhere.

"Their parents already have one or two apartments in the city worth at least 10 million yuan (around $1.5 million) each, so they don't have to think about it. Why do they need to worry about housing?" she says.

China itself is experiencing changes due to tourism, with around 80 million Chinese employed in the industry today, mostly domestically. But it's not only the local economy that's feeling the impact.

Sydney Airport's earnings jumped 22% in the past three years, according to the airport's financial reports, in large part thanks to the growing influx of Chinese tourists. In 2017, Boeing forecasted that Chinese airlines will purchase over 7,000 commercial aircrafts worth around $1.1 trillion over the next two decades, a number accounting for almost 20% of predicted new commercial acquisitions for the period. At Fosun's Holiday company Club Med Chinese tourists are now the second largest group after the French, according to a 2017 Reuters report. In October 2017, during the Chinese 7-day national holiday Golden week, Chinese tourists spent 29 million pounds in U.K. shopping centers, while pubs and restaurants saw a 23% increase in earnings that week, according to The Independent. And during the current World Cup in Russia, around 100,000 Chinese sports enthusiasts arrived in the country to partake in the event.

However, despite the new freedom of the Chinese market, the government still has a great impact when it comes to the Chinese tourist, and can use its influence to make a political statement, whether through travel advisories, pressure on travel agencies, and even flight cancellations.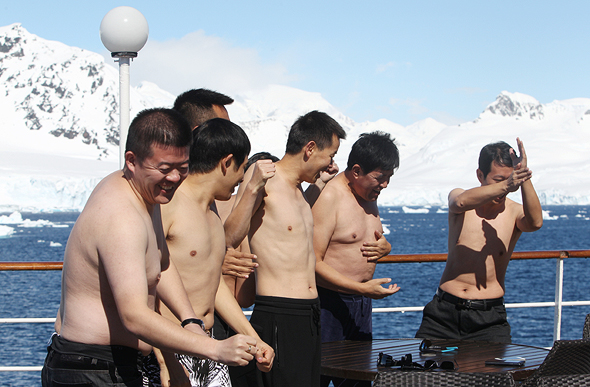 Chinese tourists, Antarctica. Photo: Getty Images

A 2012 territorial flare-up between China and Japan over a disputed group of uninhabited islands led to a 40% decrease in Chinese groups visiting Japan in 2013, according to a 2014 article by Sidney University researcher James Reilly. In 2014, a travel advisory issued by China to the Philippines amidst a territorial dispute in the South China Sea necessitated Philippine budget carrier Cebu Pacific to cancel 149 chartered flights over a three month period at the height of the tourism season, with other airlines offering Chinese-Philippines routes feeling the strain as well, according to a 2014 BBC report. In 2016, South Korea announced plans to deploy an American missile defense system despite Chinese objections, leading Beijing to forbid agencies from marketing travel packages to the country. Between 2016 and 2017, the number of Chinese tourists visiting South Korea fell by 48%, according to the Korea Tourism Organization.

"If the policy doesn't support it, it will create a lot of trouble for tourism or a sense of insecurity or danger in the general public," Qian explains. "If the government is issuing a warning for a certain destination, that will definitely affect the results."

The Chinese tourist is a relatively new phenomenon, still in the process of establishing an identity, and for Qian, this means a significant amount of work, but also great business opportunities for countries looking to become a major tourist destination.

"If we look at the younger generations in China (born after the 1970s), they have unique key features that are different from earlier generations," Qian says. "They are more spontaneous, and were born to more financial security. They are more interest-driven when it comes to spending, and are more willing to spend on what they think is worth it." She also explains that while the older generations travel to famous destinations to "take pictures and then sleep on the tour bus," younger generations choose their destinations based on a book they read or a movie they saw, or perhaps a personal interest like manga or electronic music. "They also care more about social and environmental issues in choosing travel destinations, and they look deeper for a broader meaning while their parents wanted more just to be there."

Viral posts also have a great impact on the media-savvy younger generation in China, and some countries are already using that to their advantage. In 2017, the Danish embassy in Beijing shared a post on Weibo about Pacific oysters invading Denmark's shores, leading to thousands upon thousands of comments and many Chinese newspapers and media outlets picking up the story. It's hard to quantify the actual impact of the story, but coincidently or not, in the first quarter of 2018 Ctrip rated Denmark among its top five strengthen destinations in Europe.

Ctrip is an all-inclusive company, offering not just flight tickets and hotel reservations but also train and bus tickets and services such as car rentals. Over the past few years, the company has also been expanding its influence outside of China via investments and acquisitions, such as the $1.74 billion acquisition of Scotland-based flight-search company Skyscanner in 2016. One of its biggest strengths is its big data-driven personalized travel recommendations, making use of age, family and marital status and previous travel history.

Take, for example, a woman who previously traveled to Thailand, Bali, and Hawaii, and spent 10,000 yuan (around $1,500) per trip, and has also recently made some searches about the Carribeans. "We would recommend her maybe the Maldives, or an off-the-beat destination," Qian says. "We will approach her on a lot of channels: we can send her push messages about travel diaries, or feature articles, or a photo gallery and video."

Ctrip has also partnered with WeChat, Weibo and Beijing-based news and information content platform Toutiao to advertise destinations. For a Chinese tourist, it's important to make the push at the right price, and at the right time, Qian says. Chinese decide on a trip a month or two ahead of the time, she explains, with peak seasons being the national holiday week and the Chinese new year.

"Everyday our users produce 50 terabytes of data," Qian says. "That way we are able to analyze users booking and searching behaviors, to know their profile and also whether they are single, do they have kids, their age, do they prefer nature or a metropolitan destination. With this demographic and interest, we are able to match users profile with the product. We have the biggest data pool and the strongest application of the data."