New International Airport Inaugurated Near Eilat, Israel's Most Southern Resort Town
Ramon airport is scheduled to begin regular operations at the beginning of 2019. It will replace the smaller Ovda airport, currently serving the country's remote southern region
Israel has inaugurated a new international airport that will serve Eilat, a southern tourist resort town on the coast of the Red Sea, and its neighboring towns. In a ribbon-cutting ceremony held Monday, a first test flight operated by Arkia Israeli Airlines Ltd. successfully landed at Ramon airport, located 12 miles north of Eilat in Timna Valley.
For daily updates, subscribe to our newsletter by clicking here.
The airport was named after Ilan Ramon, Israel's first astronaut to visit space, who was killed in the Columbia space shuttle disaster in 2003, and his son, Assaf Ramon, killed in an accident in 2009 while training to become a fighter pilot in Israel's air force.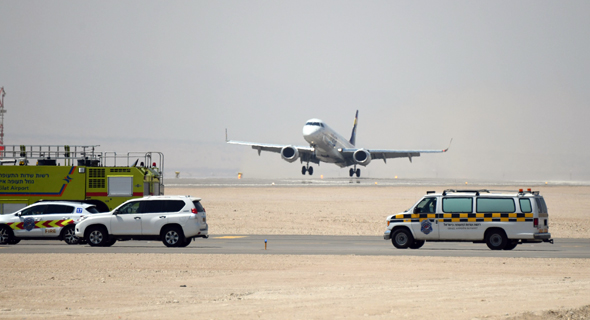 First plane lands at Ramon airport Monday. Photo: Yair Sagi
The construction costs of the airport, which is capable of housing up to 60 parked airplanes, amounted to NIS 1.8 billion (approximately $497 million), according to official statements. The airport is expected to accommodate around 2 million passengers a year.
Ramon airport is scheduled to begin regular operations at the beginning of 2019, replacing the smaller Ovda airport, that is currently the only international airport in the country's remote southern region.
Last week, Spanish airline Air Europa Líneas Aéreas announced the launch of a new winter route connecting Madrid and Eilat. Earlier this month, Calcalist reported that German carrier Deutsche Lufthansa AG is exploring a plan to launch direct flights to the town. Low-cost carriers Ryanair DAC and Transavia Airlines C.V. also offer direct routes to Eilat.