Co-Founders of Intel's Replay Technologies Start New Drone Augmented Reality Company
Called XTend, the company develops a drone-based app that promises to gamify real-life activities. It was recently chosen for a Shin Bet accelerator
Two of the founders of 3D company Replay Technologies Inc., acquired by Intel in 2016, are setting up a new augmented reality venture called XTend Reality Expansion Ltd. The company recently raised several million dollars from Tel Aviv University's TAU Ventures and private investors, according to a Monday announcement.

For daily updates, subscribe to our newsletter by clicking here.

Since the acquisition, Intel has used its now-subsidiary to set up Intel Studios, dedicated to the production of virtual reality (VR) and augmented reality (AR) content. The technology is also used by Intel to capture and deliver high-definition 3D content from sporting events.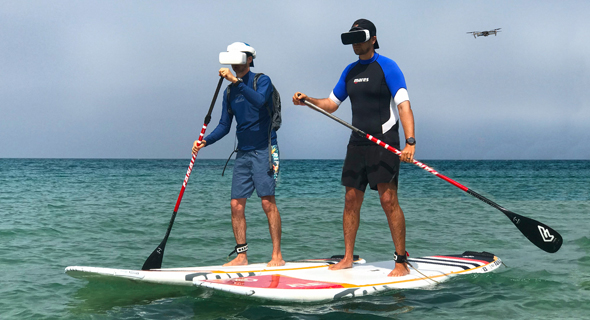 Paddle boarders with AR headsets. Photo: XTend

Registered in July by brothers Aviv and Matteo Shapira and headquartered in Tel Aviv, XTend uses the brothers' experience to develop drone-based extended reality technology, intended to combine virtual elements in real-life environments. Combining elements of cinematography, computer graphics, and computer vision, the technology developed will enable users to gamify real-life activities, simulate the experience of pilots or race car drivers, or see themselves from above like a game character while moving about.

"From childhood, every one of us dreams of flying," Aviv Shapira said in a statement, adding that the company's technology will enable users to achieve that dream realistically.

Earlier this month, XTend was announced as one of the seven startups chosen for the first cohort of The Xcelerator, an early stage accelerator program run jointly by Tel Aviv University and the Israel Security Agency, also known as Shin Bet.