Israel's Supreme Court Advises El Al to Drop Petition Against Air India
In its petition, El Al asked the court to either secure permission for its airliners to pass over Saudi airspace or prohibit India's national carrier from doing so during flights to and from Israel
On Thursday, Israel's Supreme Court advised the country's national airline El Al to drop a petition it had filed in March against Air India's direct route, which connects New Delhi and Tel Aviv, a person familiar with the matter who spoke on condition of anonymity told Calcalist. El Al was given one week to respond, the person said.

For daily updates, subscribe to our newsletter by clicking here.

In its petition against Air India, the State of Israel, the Ministry of Transportation and the Israel Airports Authority, El Al asked the court to either secure permission for its airliners to pass over Saudi airspace or prohibit India's national carrier from doing so during flights to and from Israel.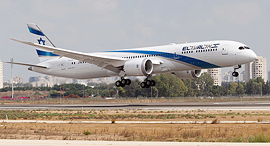 El Al airliner. Photo: Sivan Farag

Air India is the first commercial airline to be allowed to fly to and from Israel over Saudi Arabia, which does not maintain official diplomatic ties with Israel. Before the launch of the new route, El Al was the only airline to operate a direct flight connecting Israel and India. Having to avoid the Arabian Peninsula, which includes Saudi Arabia, adds about two hours to El Al's Tel Aviv-Mumbai route, upping its duration to 7-8.5 hours.

At a cabinet meeting in March, Israeli Prime Minister Benjamin Netanyahu called the launch of Air India's direct route an "historic event," and announced plans to launch a 5-hour route from Mumbai to Tel Aviv, which will also pass through Saudi airspace.

Since 2014, the number of tourists from India entering Israel each year has gone up by nearly 70%, from 34,600 to 58,000 in 2017, according to data released by Israel's Ministry of tourism in March.