Israeli Government to Authorize $8 Billion Missile Defense Plan, Report Says
According to Israeli daily Yedioth Ahronoth, the government intends to bolster the Israeli military's arms and defense systems in the face of growing aerial threats in the region
The Israeli cabinet is set to authorize on Sunday an $8 billion (NIS 30 billion) armaments plan intended to bolster Israeli defenses in the face of the growing aerial threats in the region, Israeli daily Yedioth Ahronoth reported Tuesday. The report cited an unnamed government official who called the plan "unprecedented" in Israeli history.

For daily updates, subscribe to our newsletter by clicking here.

Set to launch in 2019 and last until 2028 with a yearly budget of $820 million (NIS 3 billion), the plan will see the military expand its missiles arsenal and defense systems, both through in-country development and acquisitions. Some of the budget will also go towards shoring up home front defenses.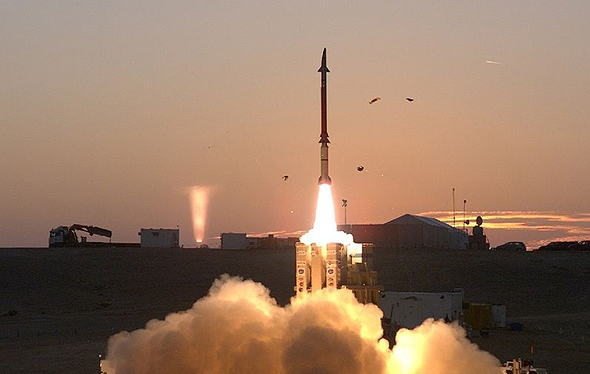 Israel's David's Sling system. Photo: AFP

According to Yedioth, the plan is the result of an Israeli understanding that the next wide-scale conflict will include massive missile attacks capable of reaching the entire Israeli home front, and that a reliable method of neutralizing the threat before impact is necessary to decrease casualties.

On Monday, the Israeli military's David's Sling system, intended to intercept enemy planes, drones, and missiles, was used operationally for the first time. Each interceptor missile—two of which were fired—costs around $1 million. David's Sling was developed jointly by Israeli defense contractor Rafael Advanced Defense Systems Ltd. and U.S. defense contractor Raytheon.

According to an April report by the Congressional Research Service, a public policy research arm of the U.S. Congress, The U.S. pledged to provide $38 billion in military aid to Israel in 2019-2028. This Memorandum of Understanding, signed in 2016, replaced a previous 10-year agreement of $30 billion that covers 2018. The report states that the Trump administration has asked that of the $38 billion sum, $3.3 billion in foreign military financing and $500 million in missile defense aid will be provided to Israel in 2019.

The decision to use David's Sling was made after two SS-21 missiles launched from Syria were identified and Israel was judged to be the target. The missiles landed in the Syrian Golan Heights without being hit by the interceptors, according to the Israeli military, with one of the interceptors intentionally diverted when it was understood that the missiles were not going to enter Israeli territory.

Earlier today, Israel shot down a Syrian fighter jet that entered Israeli airspace. The Israeli military said the aircraft was 2 km inside Israel. Syrian media confirmed the plane was shot down but said it was inside Syrian airspace when hit.