The Israeli Military Has Big Plans for Small Drones
The IDF continuously increases use of off-the-shelf machines manufactured by the likes of DJI and Israeli Aeronautics
As kites, balloons, and helium-filled condoms sent by Hamas operatives across the Gaza border are setting Israeli farmland ablaze, Israeli military adopts low-cost drones manufactured by consumer-facing companies to tackle a host of defense challenges. While fighting the low-tech flying fire-bombs is only one of these challenges, the sharp contrast brings into a focus the asymmetry on the two sides.
For daily updates, subscribe to our newsletter by clicking here.
Israel's Air Force has been operating unmanned aerial vehicles (UAV) varying in size and application for decades, mainly for intelligence-gathering. Now, the Israeli military (IDF) is turning its gaze to small rotorcrafts manufactured by the likes of Israeli Aeronautics Ltd. and Chinese company DJI.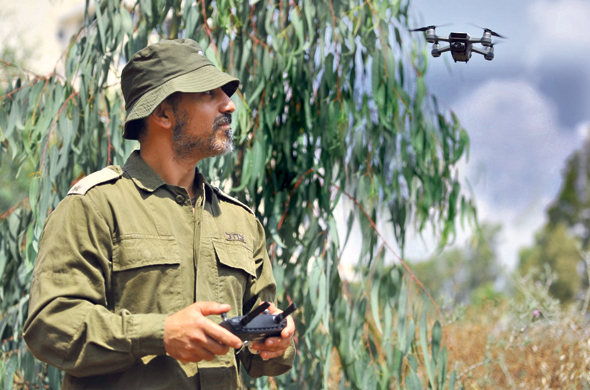 Major Assaf Shaish. Photo: IDF Spokesperson's Unit
The IDF currently uses over 400 drones and has over a thousand soldiers trained as operators. It uses small, low-cost drones deployed at the company level. Most of the off-the-shelf drones used are manufactured by DJI, with the most widely used model being the DJI Mavic—a modifiable, super light pocket drone that is easy to operate in an urban environment.
According to Liran Antebi, a research fellow at the Institute for National Security Studies (INSS), an Israeli think tank affiliated with the Tel Aviv University, the IDF's increasing use of drones is part of a trend that is seeing armies around the world adapting simple consumer drones to a variety of combat applications.
"There are many missions to accomplish, and some of them are simply easier when you can cover the area from above," Ms. Antebi told Calcalist in an interview on Thursday. "Minimal training of the drone operator can grant you a better grip on the relevant intelligence."
According to Ms. Antebi, larger UAV systems are very costly to buy and operate. "You are always looking to solve problems for less. We are at a time when private companies have research and development budgets that are bigger than the defense budgets of small and medium-sized countries. We have to be able to use off-the-shelf because that is what the other side is doing," she said.
Major Assaf Shaish heads the IDF's drone department. The military started utilizing off-the-shelf drones in the summer of 2014, in one of the violent eruptions in Gaza. "The civilian drone sector is developing quickly. We see new applications on a daily basis," he said in an interview with Calcalist earlier this month.
Before the introduction of low-cost drones, use of real-time aerial photography in ground operations was reserved to special forces, Shaish said. Now, he said, drones are assisting IDF soldiers as they carry out arrests in the narrow alleyways of Palestinian cities. The IDF supplies ground companies with a kit that typically includes three drones, batteries, command and control devices, and a charging unit. Special Ops and reconnaissance units get bigger, more costly drones.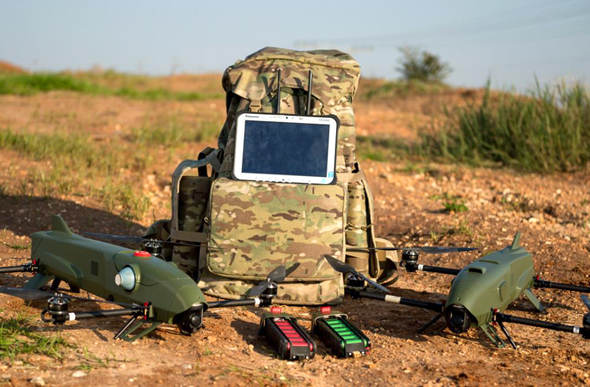 IAI's "Rotem" suicide drone. Photo: IAI
The drones are operated by soldiers that completed a one-week course. First introduced in 2015, the courses include lessons on basic aerodynamic principles and aerial photography analysis. Shaish said the IDF is aiming to train as many soldiers as possible drone operators.
"Drones let commanding officers make data-based decisions," Shaish said. "It improves their confidence."
The department he heads has been collaborating with the technology research and development arm of the Israeli Ministry of Defense, called the Administration for the Development of Weapons and Technological Infrastructure (Mafat), and with civilian defense contractors to develop new operational drones, Shaish said.
Israeli defense contractor Elbit Systems Ltd. has been working with the IDF to develop a large drone capable of longer flight time, and drone maker Aeronautics Defense Systems Ltd. is developing a drone that could carry dozens of kilos worth of equipment.
"We recently started focusing on combat logistics, attempting to replace existing methods of supplying medicine and munitions with drones," Shaish said.
The IDF is also testing the use of drones for disarming explosives, Shaish said.
"We are testing everything that could have operational value, every option of attacking with a drone," he said, "even suicide drones." According to Shaish, the IDF is not operating attack drones currently, but deployment plans are underway.
Since the time of the interview, two Israeli defense contractors, Rafael Advanced Defense Systems Ltd. and government-owned Israel Aerospace Industries Ltd. (IAI) have unveiled suicide drones designed to attack and kill people. These drones are expected to become available to the IDF within months.
Rafael has unveiled its Firefly armed drone earlier this year. Weighing only 3 kilograms, the Firefly can carry a warhead weighing up to 350 grams and remain airborne for up to 15 minutes before crashing and exploding into its target.
Earlier this month, IAI unveiled new so-called "suicide drone" in a video, announcing it has completed a proof of concept for the device, which uses a grenade to attack targets. Dubbed Rotem, the unmanned aircraft system designed to remotely attack and destroy targets in combat situations. Weighing just over 14 pounds, including the grenade, the collapsable drone is designed to be carried, launched and controlled by a single combatant moving on foot.
According to Shaish, Mafat has been testing several pilots for drone swarms in collaborations with some of Israel's top defense contractors. Israeli Elbit, Rafael, and IAI are all putting resources into the development of drone swarms, he said.
Drone swarms are being developed with specific tasks in mind: from pushing back protesters and enemy forces, to supply, to attack missions, Shaish added, saying the Israeli military itself is looking into centralized control systems capable of autonomously flying the drones to fully realize the potential uses of drone swarms. One such system is currently being tested by the IDF, and is expected to be made operational within the next two years, he said.
"This is a natural evolution of this type of machine," Shaish said.