Former Soccer Referee Opens Israeli Sports Tech Innovation Center
Called Colosseum Sport, the center aims to connect Israeli sports tech startups with the international professional sports industry as well as international investors and put Israeli sports tech on the global map by 2020
On Wednesday, veteran entrepreneur and former Israeli soccer referee Oren Simanian launched his newest venture, an international sports tech innovation center intended to put Israeli sports tech on the global map by 2020, according to Simanian.

For daily updates, subscribe to our newsletter by clicking here.

Called Colosseum Sport, the center was introduced as part of a three-day sports tech summit the company held at the Tel Aviv Stock exchange, which featured guest speakers such as NFL executive James Massing, head of strategic innovation at FC Barcelona Aitor Jimenez Villar, and Nacho Martinez Trujillo, former La Liga managing director.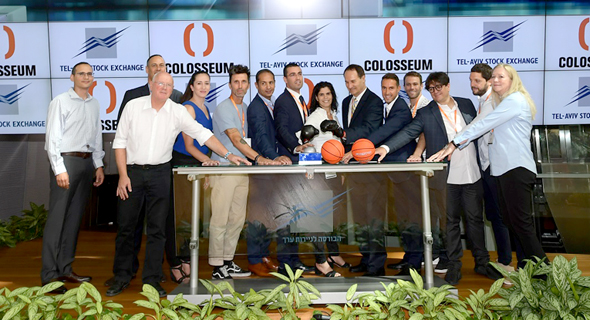 Colosseum Sport's launch at TASE. Photo: Omer Messinger

Simanian, who also founded Tel-Aviv University's center of entrepreneurship in 2010, has been working on Colosseum Sport for the past year, with the last three months spent inking partnerships and building an international network.

"The center is intended to connect the sports world and the financial and technological sector," Simanian said in a Thursday interview with Calcalist.

His goal of making Israel an international sports tech hub within a year and a half is based on his own personal experience, he explained, but also on the timing—between the recent world cup in Russia and the upcoming 2020 Summer Olympics in Tokyo—and on an unprecedented demand for sports tech innovation from fans across the world, who want to experience their favorite athletes from the comfort of their homes.

Israel has around 150 "hard" sports tech startups, Simanian said, and over 100 of them are already part of the center's network. But the country also has around 450 startups developing technologies that aren't sport-oriented, such as media, that could potentially be applied to sports innovation.

In 2016, Intel shelled out around $175 million for Replay Technologies Inc., a company offering slow motion, multi-angle replays, on which Intel based its virtual reality (VR) and augmented reality (AR) content studio. In 2017, Nielsen bought machine learning company VBrand Ltd., whose technology allows brands to track and adjust sponsorship visibility in near real-time. In April, Nike acquired Invertex Ltd., which analyses 3D images of feet to suggest the most suitable shoe models and sizes.

"Our target customers are retailers and manufacturers, like Nike or Adidas, but also professional sports organizations and sports clubs," Simanian explained. While declining to reveal the names of customers at the moment, he did say the center has already set up a partnership with a prominent sports club in Spain and another one in Italy. "We're going to bring the largest sports organization to Israel," he said.

Aside from the networking and collaboration opportunities, the center will also offer Colosseum Elite, a program that will offer selected mid and late-stage startups personal mentoring. As a future goal, Simanian said, the center is also looking to connect to the venture capital sector to help community members obtain capital for growth.

Some Israel-based venture capital firms have already started to focus on sports tech. Yossi Moldawsky, co-owner and chairman of Israeli Plus Ventures, set up a $30 million fund dedicated to sports tech in 2016. In February, equity crowdfunding company OurCrowd Management Ltd. announced the launch of a new $50 million sports tech fund, in collaboration with Berlin-based leAD Sports Accelerator Management GmbH.