Electric Scooter-Sharing Company Bird Expands to Tel Aviv and Paris
Despite some limiting legislation, electric scooters are extremely popular in Israel, especially in Tel Aviv's busy streets, where most local and international tech companies operating in the country choose to set up shop
Los Angeles-headquartered electric scooter-sharing company Bird Rides Inc. will launch a pilot program in Tel Aviv within the next few weeks, as the first step in its global expansion strategy, the company announced Wednesday. The company also announced a pilot program in Paris.

For daily updates, subscribe to our newsletter by clicking here.

In Tel Aviv, the service will first be offered through Tel Aviv University's student union, and will gradually expand to other parts of the city and the country as the average number of rides per vehicle grows, the company said in a statement.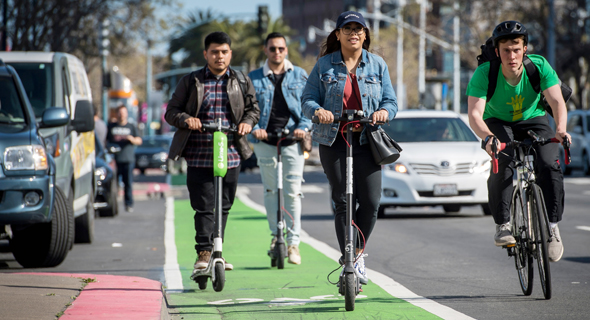 People riding electric scooters in San Francisco. Photo: Bloomberg

Bird offers an app-based service that lets users locate, unlock and use electric scooters spread around a certain city. As is the case with bicycle-sharing service Beijing Mobike Technology Co. Ltd., which is already available in Tel Aviv and its neighboring towns, Bird's scooters can be parked at any legal location, without requiring special docking stations. This, as well as the fact that they do not charge a standard monthly fee, differentiates Bird and Mobike's services from that of Tel Aviv's city-run bike-sharing service, Tel-O-Fun.

Users in Tel Aviv will be charged a flat NIS 5 (approximately $1.4) fee for each ride and NIS 0.5 (approximately $0.14) per minute. The company will collect the scooters for charging each night and redistribute them throughout the city each morning. Users will also be able to charge scooters at home in exchange for NIS 20 (approximately $5.4) in-app credit for each scooter charged.

Last month, Beijing-based bike-sharing service Ofo announced it was withdrawing from Israel after just two months of activity, citing a change in its global strategy. In June, Yedioth Ahronoth first reported that Ofo was ending its service at a university campus in central Israel, due to high logistical costs caused by users' failure to return the bikes. Later that month, Ramat Gan, a town on the outskirts of Tel Aviv, released data showing Ofo's bikes were being used about 1,300 times a day.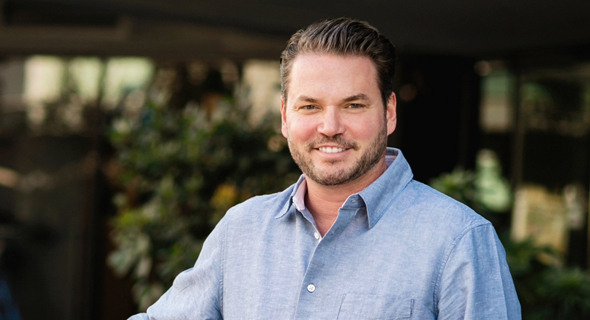 Travis VanderZanden, founder and CEO of Bird. Photo: PR

Founded in 2017, Bird is active in 18 cities throughout the U.S. The company has raised $418 million to date from investors including U.S. based venture capital firms Sequoia Capital and Greycroft.

In the U.S., Bird is facing increasing regulatory difficulties, as municipalities move to restrict the use of scooters in their territories. In April, San Francisco, where electric scooters are popular among local techies, unanimously passed legislation requiring scooter-sharing companies to register for special permits and to enforce parking and traffic laws upon users.

In Israel, electric scooters are legal and extremely popular, especially in Tel Aviv's busy streets where most local and international tech companies operating in the country choose to set up shop. Local law requires scooter users to wear helmets, abide by general traffic laws, and only ride on bicycle lanes, or on the right side of the road when those are unavailable. When crossing the street, scooter and bike users must descend from their vehicle and cross by foot. In 2017, Tel Aviv announced it was increasing its enforcement of traffic laws in regards to electric two-wheeled vehicles, with fines of up to NIS 1,000 (approximately $272) for transgressions.

In June, Kobi Peleg, director of the Israel National Center for Trauma and Emergency Medicine Research, claimed lethal electrical bike accidents are on the rise in Israel. Speaking at a parliamentary meeting, Peleg estimated that if the trend continues, 22 people will die from such accidents by the end of 2018, triple the number of fatalities seen in 2017.

Israeli law sets the minimum age for using electric scooters at 16, but Bird announced that for safety reasons, it will limit its app to users over 18.