Electronics Quality Assurance Company CIMS Opens an Outpost in Israel
Inaugurated in mid-July, the R&D center employs a team of 20 and is set to grow to a 50-person team by 2021
Chinese electronic quality assurance company CIMS opened a research and development center in the north of Israel. The R&D center, inaugurated in mid-July, now employs a team of 30, CIMS CTO Roni Flieswasser told Calcalist on Wednesday. Within three years, he said, the center is set to hire some 20 additional employees.

For daily updates, subscribe to our newsletter by clicking here.

CIMS was spun-off of Israel-headquartered, Nasdaq-listed semiconductor and printed circuit board (PCB) company Camtek Ltd. in 2005 to serve as its China-based manufacturing arm. In 2017, following the acquisition of Camtek's PCB business by Chinese investment company Principle Capital for $35 million, CIMS began operating as an independent company. The company develops and markets electronic circuit quality assurance software and hardware.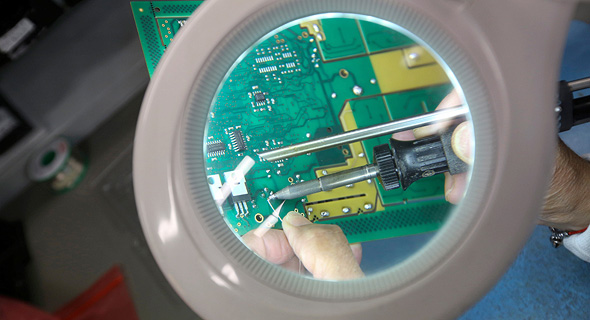 printed circuit board (illustration). Photo: Bloomberg

Following the acquisition, Principle Capital moved to fortify CIMS research and development activity in Israel, Flieswasser said, adding that the new center will focus on image processing and artificial intelligence technologies for electronics manufacturers. Flieswasser also said that Principle Capital is looking to broaden its activity in Israel through additional acquisitions.

Headquartered in Suzhou, China, CIMS employs a team of 280 in offices across Asia, Europe, and the U.S.