$27 Million Aeronautics Deal Challenged over China Link
News of the deal led to a complaint lodged with the Israeli Ministry of Defense. A previous complaint filed by the same plaintiff last year led to a still ongoing police investigation against Aeronautics
Update: on Monday, Aeronautics announced in a filing to the Tel Aviv Stock Exchange that it has signed a $27 million deal to sell Dominator aircrafts to an "Asian government entity." The payment and the supply of the aircrafts will be spread over three years, according to the announcement.
For daily updates, subscribe to our newsletter by clicking here.
A $30 million potential deal to sell military technology has led to a second complaint against Israeli dronemaker Aeronautics Ltd. in a year, highlighting growing American-Chinese tensions and Israel's position as a supplier of technology to both powers.
The customer is the Thai army, two people familiar with the matter told Calcalist, adding that the deal, for an unmanned aerial vehicle called the Dominator, is expected to be signed in the next few days. As Aeronautics closed the first quarter of 2018 with revenues of around $30 million and an operating loss of $1.2 million, the deal would have a significant impact on its bottom line.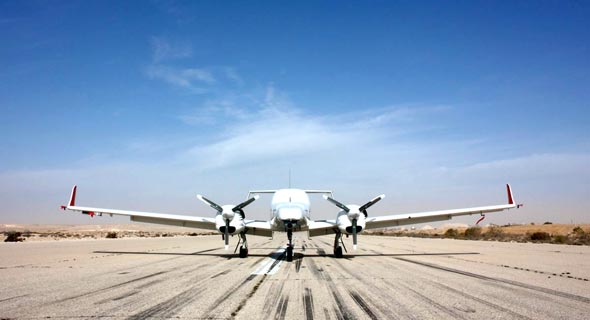 Aeronautics' Dominator. Photo: PR

Aeronautics' Dominator is based on a passenger aircraft acquired from Diamond Aircraft Industries, an Austrian aviation aircraft manufacturer under Chinese ownership since December 2017. Aeronautics equips the craft with custom-ordered military and defense systems. According to the company's website, the Dominator can support a wide variety of payloads and systems suited for both land and maritime missions, carrying up to 373 kg in added weight.

News of the deal led Alon Wallach, a former Israeli military officer and the CEO of Wireless Avionics Ltd., to lodge a complaint last week with the Israeli Ministry of Defense. According to the documents reviewed by Calcalist, one of the main issues is Diamond's Chinese ownership. "Will Uncle Sam like the fact that Israel sells such planes to a country that depends on a Chinese-owned factory, one that develops very similar products itself?" Wallach wrote in the complaint.

The complaint comes at a time when some voices on the American right are speaking against the tightening of Israel-Chinese relations and the possible impact on U.S. national security interests.

Aeronautics declined to comment.

The company is already under a police investigation in Israel following a complaint filed by Wallach last year. The investigation is under a gag order, but Israel Police has said it is related to a deal Aeronautics signed with an undisclosed, non-Israeli client. The ongoing investigation hindered Aeronautics' acquisition of U.S.-based company Chassis Plans Inc., as the Committee on Foreign Investment in the United States, a federal body charged with reviewing attempts made by foreign entities to acquire critical U.S. companies, approved the deal but said it may compel Aeronautics to sell Chassis Plans at a later date if problems with the investigation arise.

Aeronautics has also seen several of its upper management leave in recent months, including Chairman Eitan Ben-Eliyahu, who resigned in April after six years.

Aeronautics' stock has lost over 61% of its value since the company listed on the Tel Aviv Stock Exchange in June 2017.