Israeli Students Ditch Humanities, Enroll in STEM Degrees
Between 2013 and 2017 the number of students signing up for computer science and math degrees in Israel has gone up 28%, new data reveals
More Israeli students enroll for tech-related degrees, seeking to join the country's booming technology industry. According to official, previously unreleased data from the Israeli government Council for Higher Education, Israel's supervisory body for universities and colleges, between 2013 and 2017 the number of students signing up for computer science and math degrees has gone up by 28%, from 10,900 to 13,900.

For daily updates, subscribe to our newsletter by clicking here.

A December report by the Israel Innovation Authority, Israel's government tech investment arm, stated that the local tech industry has a deficit of around 10,000 software professionals. Many multinationals keep Israeli offices, and multinational tech companies including Intel, Nvidia, Amazon, Samsung have stepped up their recruitment efforts in Israel in the past year sending wages up to around 2.5 times the average local wage.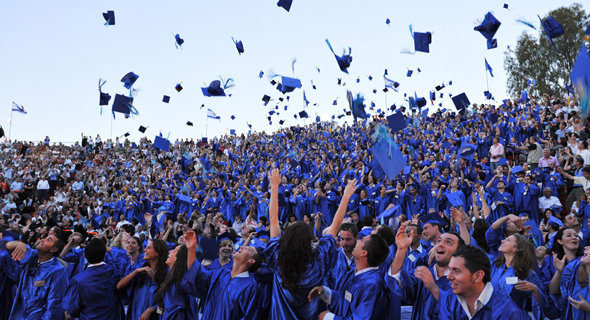 Graduation, The Interdisciplinary Center Herzliya. Photo: Yotam From

An attempt to increase the number of graduates in tech-related domains—computer sciences, electronics, and engineering—is one of the core tenets of the council's multi-year plan for 2016-2022. In 2017, the council updated its higher education subsidies plan, shifting budgets to relevant domains. In 2017, the council earmarked a budget of NIS 700 million for the purpose.

The number of students which enrolled in engineering degrees in Israel has gone up 8% between 2013 and 2017, from 33,600 to 36,400. Enrollment to humanities is decreasing at a yearly rate of 2.3%, according to council data from 2016, and Law and business management are also losing in the popularity contest. Enrollment to Law dropped 14%, from 16,200 to 13,900 in 2017, while business management students decreased from 23,200 to 18,400, a 21% drop.

According to 2017 data from the American Academy of Arts and Sciences, 212,512 humanities degrees were conferred in the U.S. in 2015, a 5% decrease from 2014 and 9.5% decrease from 2012. The Academy further stated that the humanities' share of all new bachelor's degrees in the U.S. fell below 12% in 2015, after 10 consecutive years of decline.

According to a report published earlier this year by the National Science Foundation, a U.S. government agency, undergraduate STEM enrollment rose from 15.5 million students in 2000 to over 20.2 million in 2015, around 30%, while graduate enrollment rose 35% in the same period, to nearly 668,000 students.