Teva Trending Down Following Underwhelming Second Quarter Revenues
On Thursday, the generic drugmaker announced revenues that fell slightly short of analyst consensus
On Thursday, Teva Pharmaceutical Industries Ltd. published its second quarter results for 2018, reporting revenues of $4.7 billion, 7.8% lower than the $5.1 billion it reported for the first quarter of 2018 and approximately 18% lower compared with $5.68 in revenues in the same period of 2017. These results fall slightly short of the analyst consensus revenues of $4.73 billion.

For daily updates, subscribe to our newsletter by clicking here.

Teva is currently trending down by as much as 8.5% on NYSE.

Teva attributed the declining revenues to price erosion in its U.S. generics business, to generic competition with its flagship drug Copaxone, and to the divestment of certain products.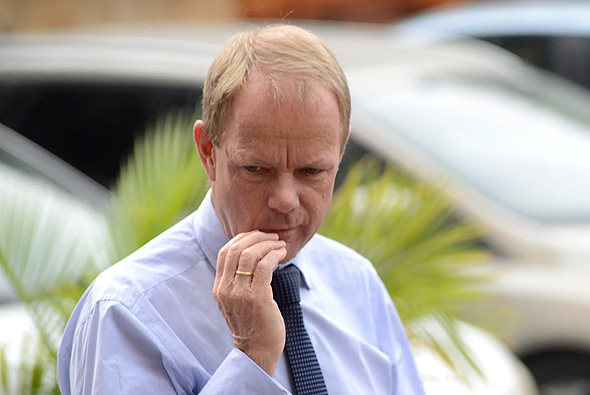 Teva CEO Kåre Schultz. Photo: Yuval Chen

Teva's GAAP gross profit was $2.1 billion in the second quarter of 2018, a 28% decrease year-over-year. Non-GAAP gross profit was $2.4 billion, a 27% decrease year-over-year.

GAAP loss per share (diluted) was $0.24 for the second quarter, compared to a loss per share of $5.94 in the same period of 2017. Teva reported non-GAAP diluted earnings per share of $0.78, exceeding analysts' forecast of $0.64 EPS. The company raised its non-GAAP EPS guidance for 2018 from $2.40-$2.65 to $2.55-2.80. Teva also raised its annual free cash flow guidance to $3.2-3.4 billion from $3.0-3.2 billion.

Teva has significantly reduced its research and development expenses in this quarter to $281 million, or 6% of the company's quarterly revenues, compared with the $433 million it spent in the same period last year. This reduction came from what the company called "pipeline optimization," from phase 3 studies which have concluded, and from extended layoffs.

"The restructuring program is on schedule, we have already achieved a significant cost base reduction towards our target for the year and we continue to reduce our net debt," Kåre Schultz, Teva's president and CEO, said in a statement. "Given the second quarter results, we have decided to raise our 2018 full year guidance," Mr. Schultz added.