Israel Expected to Ban Marketing of E-Cigarette Juul
Currently selling its products in only two countries outside of the U.S., Juul started operating in Israel in May
The Israeli Ministry of Health has decided to ban the marketing of popular e-cigarette Juul in Israel, officials at the ministry confirmed to Calcalist on Monday. The decision hinges on a final stamp of approval from the country's attorney general.

For daily updates, subscribe to our newsletter by clicking here.

Backed by the likes of Tiger Global Management and Fidelity Investments, San Francisco-based Juul Labs Inc. is considered a disruptor in its domain. The company was spun off Pax Labs Inc. in 2017. In June Bloomberg reported the company was looking to raise $1.25 billion according to a company valuation of $15 billion. July filings with the U.S. Securities and Exchange Commission show that the company has already managed to raise at least $650 million of the sum.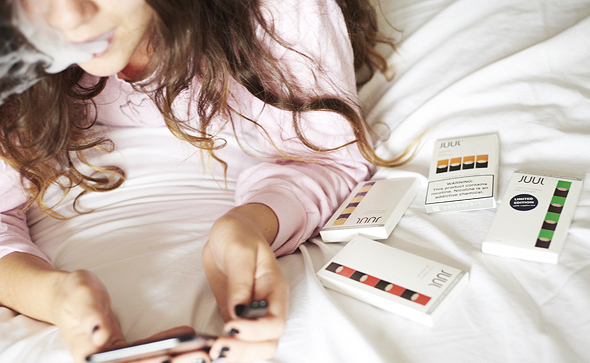 Juul. Photo: Bloomberg

Shaped like a USB stick, the company's e-cigarette comes with colorful nicotine pods in flavors including crème brûlée, mint, and mango. Each pod contains 5% nicotine by weight, which is 59 mg of nicotine a pod—twice the amount of nicotine found in most other brands of e-cigarettes and equivalent to an entire pack of regular cigarettes.

After first launching its e-cigarette in the U.S. market in 2015, Juul gained momentum over the last 12 months. According to a CNBC article citing data by market research firm Nielsen published Saturday, Juul's sales have shot up almost 800% over the past year and the company now controls around 71% of the U.S. e-cigarette market.

Though Juul states its products are intended to provide a cigarette alternative to "existing adult smokers," the company has been under increased criticism for its fast-growing popularity among teens. According to a July Wired report, no less than three lawsuits have been filed against the company in the U.S. since April for allegedly marketing its product as "safe" while being highly addictive due to a heavy nicotine dosage. All three lawsuits referenced Juul's earlier and colorful marketing campaigns that featured young people and alleged that the company pushed its products through social media influencers, reported Wired.

In April, the U.S. Food and Drug Administration announced a series of new enforcement and regulatory steps as part of its fight against tobacco use. As part of the policy, the organization announced its intention to establish a framework for regulating non-combustible tobacco products such as e-cigarettes and revealed that it has sent Juul a formal request for company documents about issues such as product marketing and youth initiation, to determine whether the company marketed its products to the underage.

In July, Massachusetts Attorney General Maura Healey launched an investigation into Juul due to its popularity among the state's teens. "I want to be clear with the public. This isn't about getting adults to stop smoking cigarettes. This is about getting kids to start vaping," she said at the time.

Currently selling its products in only two countries outside of the U.S., Juul started operating in Israel in May. In July, Juul launched its product in the U.K., where it sells its pods with a nicotine percentage of 1.7%, to comply with European regulations. In Israel, the company sells the full 5% dose.

Juul's marketing in Israel has been under debate as part of a general regulatory push against the marketing of tobacco products. Deputy Health Minister Yaakov Litzman approached the attorney general office in May to request a ban on marketing Juul due to its high nicotine content. Following lobbying efforts from the company and a hearing held at the ministry in early July, the ministry made a formal decision to ban Juul marketing in Israel over the weekend. The decision passed to the country's attorney general. In July, Israel's deputy attorney general Raz Nazri said the health ministry has a "judicial basis" to ban Juul.

A Juul spokesperson said the hearing is still ongoing. By leaking information Israeli state officials are making "cynical use" of the media in an "illegal attempt" to stop the company's operations in the country, Juul's spokesperson said.