National Broadcaster to Netanyahu: Send Money, or Pass On Opportunity to Host Eurovision Contest
In a letter sent to Netanyahu on Sunday, the broadcaster warned it will not provide the securities required to hold the song contest in Israel, should the government fail to secure the full budget required for the event
Israel's national broadcaster Kan has warned Prime Minister Benjamin Netanyahu that Israel may not be able to host this year's Eurovision song contest.

For daily updates, subscribe to our newsletter by clicking here.

In an urgent letter sent to Netanyahu on Sunday, Kan's Chairman Gil Omer informed the prime minister that if Israel fails to secure the full budget needed for the production of the contest, Kan will not provide the 12 million euros in securities required by the European Broadcasting Union (EBU), which is in charge of the contest. According to EBU's regulations, Kan must post the securities by Tuesday, otherwise, the event will not take place in Israel.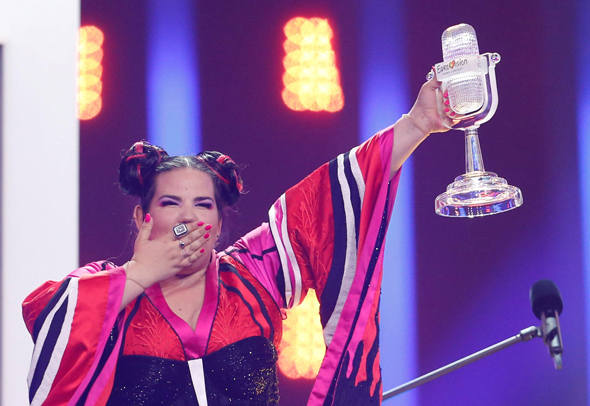 Israeli singer Netta Barzilai winning the Eurovision contest in May. Photo: Reuters

The Eurovision is an international song contest in which representatives from several dozen European countries, as well as Israel and Australia, contend over the public vote. The competition is normally hosted by the country who has won the previous year. In May, Israeli singer Netta Barzilai took home the trophy with her song "Toy."

This puts Kan in an impossible situation, Omer wrote. If the state decides to provide insufficient funding or if it makes any other decision opposed to EBU's regulations, causing it to cancel the event, Kan would be held solely accountable for the financial damage, he added.