Blockchain Entrepreneur Moshe Hogeg Agrees to Buy Jerusalem Football Club, Report Says
Israeli news site Ynet News reported Monday that Hogeg and the current owner of Beitar Jerusalem had signed a memorandum of understanding, that will see Hogeg pay some $7 million for the club
Israeli blockchain entrepreneur Moshe Hogeg has agreed to buy the Beitar Jerusalem Football Club for approximately $7 million (NIS 26.5 million), Israeli news site Ynet News reported on Monday. Hogeg and the current owner of Beitar Jerusalem, Israeli businessman Eli Tabib, had signed a memorandum of understanding, the newspaper reported.

For daily updates, subscribe to our newsletter by clicking here.

Hogeg's move to buy the club was first reported on Wednesday, with Tabib reportedly agreeing to an offer of $6.5 million (NIS 24 million). On Thursday, Tabib reportedly rejected the offer, asking for an additional $1.1 million (NIS 4 million). The football club carries a debt of $2.2 million (NIS 8 million), more than it disclosed during earlier negotiations, Ynet News reported Thursday, citing Hogeg as saying he will not pay "a shekel more" than the previously agreed-upon sum.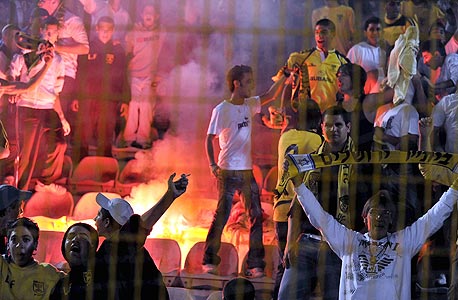 Bitar Jerusalem fans. Photo: Reuven Schwartz

Hogeg, who hails from the southern city of Be'er Sheva, is a known soccer enthusiast and fan of Hapoel Be'er Sheva Football Club. On several occasions, Hogeg posted photos of himself wearing a Hapoel Be'er Sheva jersey to his personal Facebook page. Mobli, a startup he founded in 2009, had sponsored the club in the past.

Hogeg is the co-founder and chairman of venture capital firm Singulariteam Ltd., which invests in startups in fields such as artificial intelligence, robotic, AR, and VR. He founded blockchain-based phone company Sirin Labs in 2013 in partnership with Kazakhstan-born businessman Kenges Rakishev. In 2016, the company launched what it called the world's most secure phone, pricing it at $14,000. In March 2017, Sirin Labs let go a third of its employees, before announcing a pivot to blockchain in September of that year. The company raised $157.8 million in a December initial coin offering, stating it will use the proceeds to develop and produce FINNEY, a new blockchain technology-based phone.

In June, Calcalist reported that Hogeg bought $19 million worth of real estate in Israel, paying partly in bitcoin.

Founded in 1936, Beitar Jerusalem is politically affiliated with right-wing politics and is historically associated with Israel's governing party, the Likud-National Liberal Movement. Beitar is the only Israeli club playing in the country's premier league to have never signed a player belonging to the Arab minority, which makes up roughly 20% of Israel's population.

In May, six-time national champion Beitar Jerusalem announced a plan to add U.S. President Donald Trump's last name to its team name, as a tribute to Trump's decision to move the U.S. embassy from Tel Aviv to Jerusalem.