Sara Netanyahu Wore Flight Attendant Uniform to Launch El Al's New Dreamliner
Prime Minister Benjamin Netanyahu's wife, Sara, a former flight attendant for national carrier El Al, received the plane in a Tuesday ceremony
Sara Netanyahu, the wife of Prime Minister Benjamin Netanyahu, participated in the launch ceremony of national carrier El Al's new Boeing 787 Dreamliner, wearing a flight attendant uniform. Netanyahu is a former El Al flight attendant.

For daily updates, subscribe to our newsletter by clicking here.

The Dreamliner took off from Boeing's Seattle facilities and landed on Tuesday morning at Israel's Ben-Gurion airport. Speaking at the ceremony, El Al president and CEO Gonen Usishkin said that El Al had purchased 16 Dreamliners in a $1.2 billion deal, and will be integrating them gradually to replaces older Boeing 747 and 767 planes. This is the sixth Dreamliner to be received by El Al.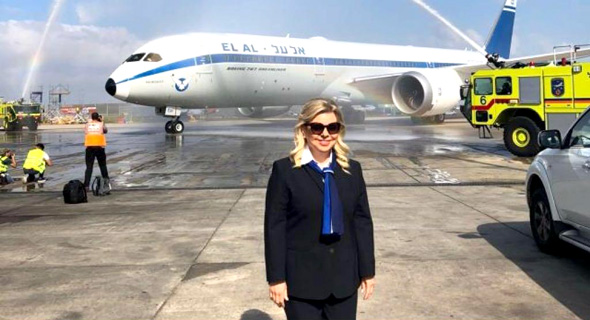 Sara Netanyahu. Photo: PR

Recently, El Al faced backlash for asking female passengers to change seats to accommodate ultra-orthodox Jewish men, who often refuse to be seated next to women. In June of 2017, an Israeli court ruled the practice illegal, but the national carrier reportedly maintains the practice.

In June, Sara Netanyahu was indicted for fraud over alleged systematic misuse of state funds to order catered meals to the prime minister's official residence. Netanyahu fraudulently obtained some $100,000 for the unauthorized meals. If convicted, she could receive a sentence of up to five years in jail.