PepsiCo Buys SodaStream for $3.2 Billion to Grow Wholesome Portfolio
PepsiCo has committed to keeping SodaStream's manufacturing facilities in Israel for a 15-year period, according to a person familiar with the deal. The companies announced the acquisition, which will see the Israeli company become a wholly-owned subsidiary, on Monday
PepsiCo Inc. will pay $3.2 billion for Israeli at-home water carbonation products company SodaStream International Ltd., according to a Monday filing with the Tel Aviv Stock exchange. PepsiCo will pay $144 per share in cash, a 32% premium on SodaStream's 30-day volume weighted average price. SodaStream will become an indirect wholly-owned subsidiary of PepsiCo following the deal.
For daily updates, subscribe to our newsletter by clicking here.
In a press conference held in Israel Monday, PepsiCo President Ramon Laguarta said that Pepsico is not planning to make any changes at SodaStream. Laguarta confirmed an earlier report by Calcalist, saying that PepsiCo is committed, as part of the deal, to keep SodaStream's operation in Israel for 15 years. Laguarta added that the two companies share a vision of a healthier, more sustainable world.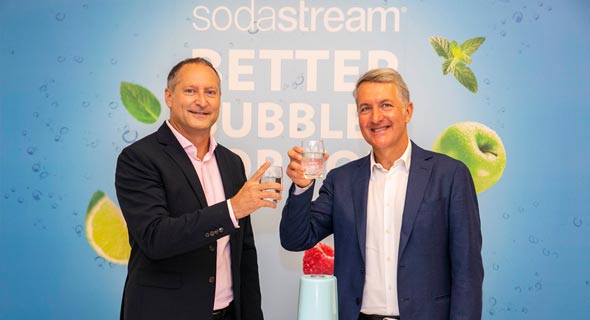 SodaStream CEO Daniel Birnbaum (left) and PepsiCo CEO Ramon Laguarta. Photo: Eran Lamm
SodaStream CEO Daniel Birnbaum said that the company's manufacturing facility in the south of Israel is set to hire some 300 new employees to meet growing demand.
One person familiar with the matter who spoke on condition of anonymity told Calcalist on Monday that PepsiCo has been negotiating with SodaStream as early as 2015 but the deal never made it beyond "advanced talks."
An "intensive push" over the past two months finally led to the acquisition, that person said, adding that no other company was competing with PepsiCo over SodaStream.
As beverage brands such as Pepsi and Cola are scrutinized for their negative impact on global health and the environment, SodaStream has focused its marketing efforts on offering an alternative. In 2013, CBS had refused to air a SodaStream Super Bowl commercial that bashed Pepsi and Cola, who were themselves major advertisers on the channel. Instead, the company eventually ran a commercial that took aim at soft drink companies in general, just not those two in particular.
Commenting on the companies' past rivalry, Birenbaum said that he credits PepsiCo with understanding growing demand for sustainable products. Use of disposable plastic must end, and this is a way to gradually achieve that, he said.
The acquisition is in line with PepsiCo's aim to diversify its reduced-sugar beverages portfolio. The producers of several hundred brands including Pepsi, 7 Up, Mountain Dew, and Tropicana, has previously committed to reduce sugar content in its beverages by 2025, following mounting pressure from international health organizations and from lawmakers the world over. In 2016, PepsiCo announced a global plan that will see at least two-thirds of its beverage portfolio containing less than 100 Calories from added sugars per serving. In a 2016 statement, the company said it will achieve this goal by expanding its portfolio of lower-calorie beverages.
The deal is likely to be the last major acquisition spearheaded by PepsiCo's exiting CEO Indra Nooyi, who has strived to add more health-minded options to the company's portfolio in her 12 years at PepsiCo. Nooyi announced her resignation earlier this month.
SodaStream's board of directors approved the acquisition, and the merger must now be approved by the company's shareholders in a meeting that will be held "in the near future." SodaStream stated it expects the merger to be completed by January 2019.
SodaStream was founded in the U.K. in 1903, and changed several hands before being acquired in 1998 by Israeli company Soda-Club. The company was the target of a Boycott, Divest and Sanction movement ( BDS) campaign in 2014 due to one of its factories being located in a Jewish settlement in the West Bank. Following the campaign, the company laid off most of its Palestinian workers, around 500 in number, and relocated the facility to southern Israel in October 2014. The company hired Israeli employees to replace the employees who were let go but also attempted to gain permits for 74 experienced Palestinian workers. Those final employees were let go in 2015 after Israel refused to give them permits.
SodaStream listed on Nasdaq in 2010, raising $108.9 million at a company valuation of $367.7 million. The company is also listed on the Tel Aviv Stock Exchange.
SodaStream reported strong second quarter reports on August 1, sending the company's stock up by 26.32% on Nasdaq since. The company reported revenues of $171.5 million for the second quarter of 2018, a 31.3% increase year-over-year, and a net income of $26.1 million, an 81.7% increase year-over-year, credited in a large part due to a 22% increase in the sales of sparkling water maker units. SodaStream also upped its revenues guidance for the full year from 15% to 23%, its operating income guidance from 15% to 44%, and its diluted earnings per share guidance from 8% to 31%.
PepsiCo was represented by U.S. law firm Gibson, Dunn & Crutcher LLP and Israeli law firm Herzog, Fox & Neeman. Goldman Sachs acted as financial advisor to PepsiCo.