Saar Wilf's Bid to Rid the World of Clunky Online Payments
Tech entrepreneur, investor, and semi-pro poker player Saar Wilf wants to overhaul the global payment system and he's banking on a digital currency called Q
Serial entrepreneur, investor, and semi-pro poker player Saar Wilf wants to overhaul the global payment system. He's banking on a digital currency called Q that you can get by simply registering as a user with your name and email, no charge.

For daily updates, subscribe to our newsletter by clicking here.

Israeli-born Wilf, 44, has a track record when it comes to setting up companies that change the ways online payments work. An alumnus of Israeli military signal intelligence unit 8200, he co-founded Fraud Sciences Corp., a Tel Aviv company that utilized profiling methods to identify fraudulent transactions. In 2008, PayPal bought Fraud Sciences, making it the backbone of its current anti-fraud systems. In 2010, Trivnet.com, a payments company he co-founded in 1997, was bought by digital security company Gemalto. Since then he has become an active investor. He also plays poker semi-professionally: in 2011 he came in sixth and collected $208,000 (145,000 euros) at EPT (European poker tournament) Barcelona.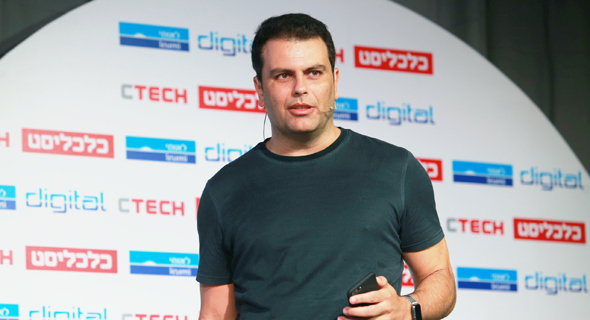 Saar Wilf. Photo: Orel Cohen

With his newest venture, Initiative Q, Wilf wants to create a payment network that would solve many of the things that make payments more of a hassle then they should be. Like the fact that invoices frequently state a name of a business that people never heard about, or the fact that they can't communicate with the receiver of the payment.

The payment system he envisions, as Wilf is quick to note, is still not in existence and there is no guarantee that the initiative will garner a large enough user base to justify actual development.

"I can develop an amazing payment system—which is what I did in 1997, and which was just right for the time—and still no one will come," Wilf said in an interview with Calcalist earlier this month.

In the late 90s, Wilf explained, it was far from obvious that credit cards are going to become the default payment system for the internet.

"No one thought credit cards will win. They just copied the method of phone payments to the internet: you fill a form and enter your card information. It seems insane that millions upon millions of dollars are just transferred like that—Just charge my card."

"You can create a much cheaper payment system if you enlist enough people," Wilf added. "Better technology has existed for decades."

How do digital coins fit into this scheme? While bitcoin, ethereum and others of their ilk have not made a real impact as a payment method so far, they have made the debate about the deficiencies of existing payment methods very public, said Wilf.

"The only thing of relevance about crypto is that people realized that what makes money valuable is not necessarily related to governments."

Wilf is looking to link the monetary system to the payment system using Q, a token named for the quantity theory of money (QTM), which states that the general price level of goods and services has a direct relationship with the quantity of money in circulation. It is also an allusion to the way the letter is pronounced—queue—hinting at the possibility of people lining up to receive the coin.

And they are, apparently. A few hundred thousand people have already opted to join and receive an initial amount of Q so far, at a rate of a few tens of thousands a day, according to Wilf, with very little promotional effort.

Once a user has registered, he or she receives 13,000 Q coins, 10% of "their potential Q grant." If they invite—and verify—five people within 96 hours, the user receives another 40%. Another ten recruits will net the user another potential sum. According to the initiative's website, if the network takes off the coins will be released at a rate intended to maintain a stable exchange rate of around one Q per $1.

Some of the forum threads that discussed Initiative Q since the registration website went live in June have likened it to a pyramid scheme. Wilf emphasized that while users do receive Q for inviting others, those joining do not have to commit any funds, only provide a name and a verified email address. "It's a huge difference," he said.

Initiative Q is a registered company, with monetary advisors and people employed in research and development. But Wilf states that if the initiative gathers enough traction the company will have to bring in investors that will either receive Q or equity.

"The question is how we create a coin that keeps its value over time," Wilf said.

Q will be managed by an independent monetary committee made up of people with a background in monetary economics, who will be appointed following a voting process by all members and stakeholders in the network, Wilf said. The network is one thing, while the coin is another thing altogether, he explained, adding that "since a coin is a very tricky issue and people have to put their trust in it, it will be managed by people in a democratic way."

Initiative Q's website states that two trillion coins will be issued initially, with 40% reserved for buyers, 40% distributed to sellers, agents and contributors, 10% reserved for the company, and 10% to the monetary committee. The website also states that the monetary committee may "issue new coins for the purpose of maintaining stability, and increasing adoption."

The crux of Initiative Q's focus is making payments happen, Wilf said, making clear: "my competitor is Visa."