Building an Airport for China's Future Mega-City
At the construction site of Beijing's future main airport, huge slabs of concrete are falling out of the sky to harden the ground in preparation for the planes to come
A narrow, winding road which cuts through dusty villages and unkempt fields connects Beijing with what is soon to be the world's largest airport, less than an hour's drive away. A new highway is also under works, one of seven highways to run to the behemoth airport, as is a 160-kilometers-per-hour underground train that will cut travel time from the city down to 19 short minutes.

For daily updates, subscribe to our newsletter by clicking here.

Beijing already has a functioning airport, of course. A decade ago, ahead of the 2008 Summer Olympic games hosted in the city, the Chinese government expanded the Beijing Capital International Airport with a $3.6 billion investment. Now, rising income and socio-economic standards and the growth in tourism have burdened the airport to the point where delays are routine and new flights can no longer be accepted. Today, Beijing Capital is the second largest airport in the world in term of volume of passengers (after the Hartsfield–Jackson Atlanta International Airport). In 2017, 95.8 million people traveled to or from it, much more than its designated annual capacity of 76 million passengers.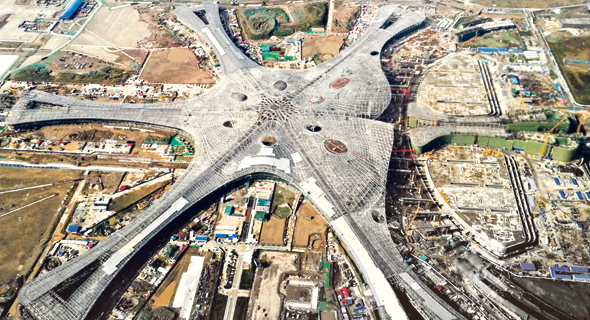 Beijing's new airport. Photo: AFP

In 2013, China approved a $12 billion plan to build a new airport in Daxing, one of 16 districts that make up the city of Beijing, located south of the city and only 45 kilometers from Beijing city center. Work on the new airport began in 2014. Initially, the new airport is set to serve 45 million passengers a year, going up to an annual capacity of 72 million passengers by 2025. At full capacity, in 2040, the airport is set to serve more than 100 million passengers and 4 million tonnes of cargo each year, which will make it the world's largest airport.

Spanning 47 square kilometers centered around a 700,000-square-meter terminal, the airport's proportion can easily be described as epic. Construction has already made use of 1.6 million cubic meters of concrete and 57,000 tonnes of steel. The terminal was designed by the late architect Zaha Hadid, and is one of the last plans she signed off on before her death in 2016.

Yang Wen Ke, vice president of China Airports Construction Corporation (CACC), said in June that everything is going to be ready by October 1, 2019, when test flights are set to commence. He was leading a delegation of Israeli building contractors through a tour of the airport. His optimism is well-reasoned when considering the Chinese government's tenacious commitment to the project. Even the 2017 discovery of a Qing dynasty graveyard with some 200 tombs on site of the new airport did not delay construction.

Colossal as the new airport is going to be, it is only one part of an even more grandiose plan to connect Beijing with the neighboring port city Tianjin, 100 kilometers from Beijing city center, and with the province of Hebei. This initiative will ultimately create the world's largest mega-metropolis with 130 million residents, much more than Tokyo, the world's current most populous city, home to some 38 million people. China's new mega-city will be home to more people than the entire population of Japan, which is approximately 127 million. The plan is promoted by Chinese President Xi Jinping.

Contemporary China sees itself as a global leader, and this new airport—and the mega-city forming around it—is meant to help establish China's new position in the world. To do so, it cannot dominate by size alone. Rather, it must be a model of environmentally-conscientious design and high-tech construction. One way in which the airport is attempting to set a new standard for energy saving is its hypnotizing glass ceiling, designed to let in natural light and reduce dependency in electrical lighting. The 188,000-square-meter roof took three months to install, during which time 1,200 construction workers set some 13,000 glass panels.

To avoid the need to shuttle passengers by busses or trains between remote terminals, Beijing's new airport is designed around a sprawling solo terminal. While many airports were built as long corridors, causing passengers to travel long distances before arriving at their gate, this six-stories terminal is designed around a central court. Five "arms" extended out of the center, hosting the terminal's many gates. The terminal's design is meant to ensure that passengers can walk from the entrance to their gate in 10 minutes or less. The official Chinese media described the design of the terminal building as a phoenix spreading its wings. But on social media, the construction is often compared to female genitalia.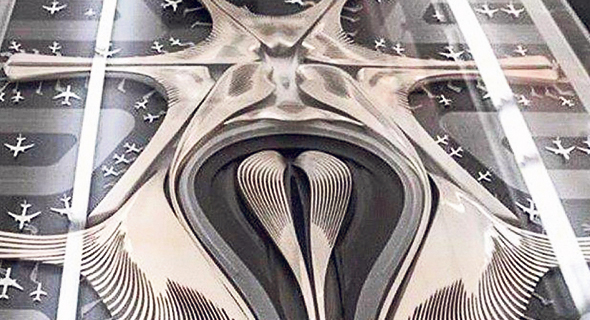 An illustration of Beijing's new airport

The facilities of the terminal construction teams look like a small town with dozens of caravans, a parking lot, and even a basketball court. The residential quarters for 13,000 construction workers are located in the far corner.

Yang, who occasionally leads delegations around the new airport, also oversees the construction of one of the airport's landing and take-off tracks. To build the large tracks, massive amounts of soil were brought in and compressed using huge concrete weights which were lifted and dropped repeatedly from a height using cranes.

On a hot afternoon in June, one of the world's largest construction sites appears to be almost empty. Only a few workers could be seen around, and a handful of vehicles. Nothing here suggests the incredible speed in which this airport is being built in only four and a half years.

Technological advancement and efficiency are two of the reasons Chinese construction companies have been building a reputation outside of China in recent years. Large Chinese-run construction projects in Asia and Africa are even funded by Chinese loans, deepening China's influence in these parts of the world.

Much of the fight for the world's top construction projects is won by publicity, and good publicity is, in part, earned through performance. China has worked to raise safety and environmental standards, and the effort shows. Safety measures at the airport construction site are drilled down through a flurry of informative posters seen everywhere, and building materials are handled with utmost care as to reduce, as much as possible, the impact on air quality.

Still, safety and the environment aside, China's attempts to reach far-reaching goals come with significant collateral damage. For the construction of this airport, the government evacuated 20 villages. Environmental quality reports predict that the noise pollution caused by the new airport will affect 472 villages, 153 schools, 17 hospitals, ten retirement homes, and a zoo. 11 more villages, where noise is expected to reach a harmful level of 80 decibels, will be forced to relocate.