Netanyahu Bans E-Cigarette Juul in Israel
The Israeli Prime Minister is also the country's health minister. Juul intends to petition the Israeli Supreme Court to reverse the edict
Israeli Prime Minister and Benjamin Netanyahu signed on Tuesday an edict banning e-cigarette Juul in Israel. Netanyahu is also the country's minister of health due to coalition-related maneuvers. Juul intends to petition the Israeli Supreme Court to reverse the edict, a spokesperson for the company said, calling the decision "political."

For daily updates, subscribe to our newsletter by clicking here.

San Francisco-based Juul Labs Inc. first launched its e-cigarette in the U.S. in 2015, offering its nicotine pods in a variety of flavors such as crème brûlée, mint, and mango. The company states its product is intended to be an alternative for "existing adult smokers," but its high nicotine content—59 mg of nicotine a pod, equivalent to an entire pack of regular cigarettes—and its growing popularity among teens led to much criticism of the company.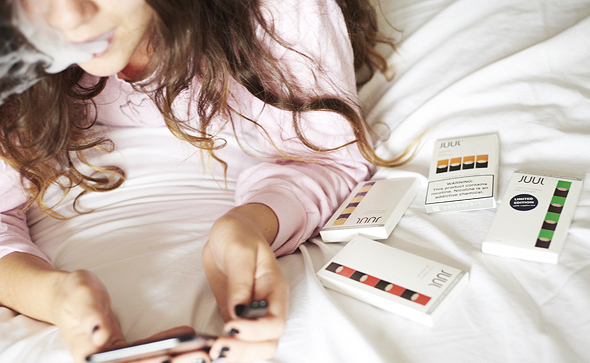 Juul. Photo: Bloomberg

Besides Israel, the company only sells its product in one market outside the U.S., the U.K. But whereas in the U.K., due to European regulations, Juul pods have a nicotine percentage of 1.7%, in Israel they are marketed with the full 5%, or 59 mg.

A spokesperson for Juul explained that before the company enters a new market, it considers several parameters, such as the local cigarette prices, existing regulation and the number of people looking to quit smoking. Cigarettes in the Israeli market are more expensive than Juul, the spokesperson further explained the company's choice of Israel as a new market.

Israel's Deputy Health Minister Yaakov Litzman has been campaigning against Juul since it became available in Israel in May. The Israeli health ministry's position is that any product with a nicotine content of over 20 mg does not fall under the category of "a product for personal consumption" according to Israeli law.

Netanyahu's signoff comes after several debates at the ministerial level, lobbying efforts from Juul, and a hearing held at the ministry in early July. The health ministry formulated its official decision earlier this month and passed the decision to the country's attorney general.

A spokesperson for Juul said the decision was made for political reasons and that public welfare was not a priority in the decision-making process.

"We are baffled by this political decision," the spokesperson said.

Juul intends to petition the Israeli Supreme Court to reverse the edict, the spokesperson added.