Teva Outsources Manufacturing in Anticipation of Israeli Plant Closure
The debt-laden drugmaker announced an aggressive reorganization plan in December, consisting of wide-spread asset divestments and layoffs, including in its home country of Israel
Israel-headquartered Teva Pharmaceutical Industries Ltd. is moving ahead with its reorganization plan, announced December 2017, and outsourcing some of its in-house manufacturing to Israel-based Rekah Pharmaceutical Industry Ltd. Tel Aviv-listed Rekah announced the 10-year agreement with the debt-laden generic drugmaker in a filing to the Tel Aviv Stock Exchange Monday.

For daily updates, subscribe to our newsletter by clicking here.

In December, after two years of diminishing revenues and plummeting shares, and with a multi-billion debt load, Teva's then newly appointed CEO Kåre Schultz announced an aggressive reorganization plan that includes wide-spread asset divestments and the layoffs of 25% of Teva's employees. The announcement caused widespread though short-lived protests in Israel.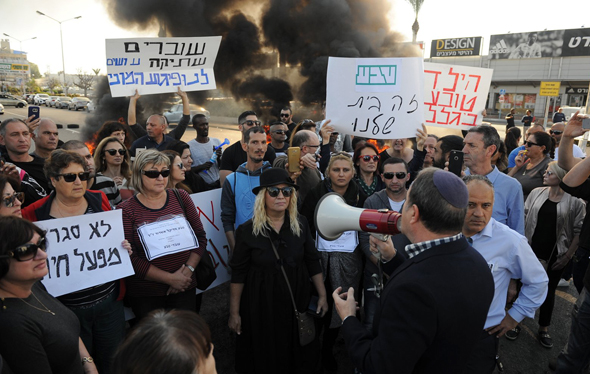 Employees protesting Teva's layoff plan in Ashdod, December 2017. Photo: Avi Rokach

One the Israeli assets slated for closure in the first quarter of 2019 is Teva's facility in Israeli port town Ashdod. The facility manufactures products for medical processes such as dialysis and Intravenous therapy, pain medication like Paracetamol, and anti-cancer medication. Teva has previously attempted to find a buyer for the facility but failed.

According to Rekah's announcement, Teva will transfer the technical know-how for some of the products currently manufactured in Ashdod to Vitamed Pharmaceutical Industries Ltd., a wholly owned subsidiary of Rekah. The company will manufacture the products in its Israeli facility, and Teva will continue to sell them exclusively under its own brand.

The manufacturing activity of Teva's Jerusalem facility, also slated for closure, will be relocated overseas.

The deal with Rekah is subject to regulatory approval.