Live Broadcasting Company LiveU Expands to Autonomous Car Market
Israel-based LiveU develops technology for live broadcasting and streaming over cellular networks, with an option for remote control. Clients include Fox News, BBC, and Facebook
Israel-based live broadcasting company LiveU Ltd. is taking its remote control technology to the autonomous vehicle market. In the past year the company has received several inquiries from automakers about the possibility of integrating its technology into driverless cars, CEO Samuel Wasserman told Calcalist in an interview last week.

For daily updates, subscribe to our newsletter by clicking here.

In February, California's Department of Motor Vehicles passed a regulation that requires all companies testing autonomous vehicles on its roads to have an operator monitoring the car remotely, with the ability to control the car remotely as well. California is considered a hotspot of autonomous vehicle research and development, with players such as Tesla, Nvidia, Apple, Waymo, and Toyota registered for tests in the state. The resolution led several companies—Wasserman does not provide any names—to approach LiveU about the option of adapting the company's technology for vehicle control systems.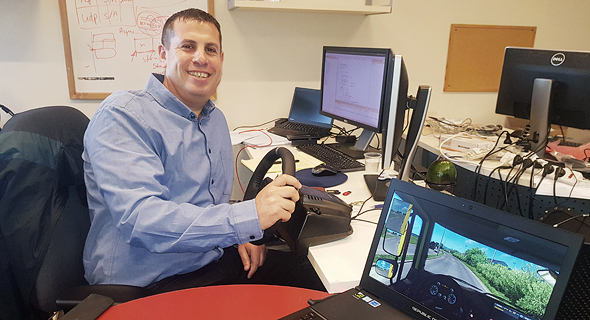 LiveU CEO Samuel Wasserman. Photo: PR

LiveU, founded in 2006, develops live broadcasting and streaming technologies. The company's technology negates the need for an outside broadcasting van, as the video is transmitted over cellular networks to the broadcaster's server. In 2017, 1.7 million hours of live videos were broadcasted using the company's systems, according to Wasserman. Clients include Fox News, Sky News, BBC, CNN, ESPN, AP, and Facebook. The company employs 230 people, mostly in Israel, and raised $50 million to date.

LiveU has been diversifying from news broadcasting in recent years to sports broadcasting, cloud-related technology, and digital domains. In 2016, LiveU signed a deal with Facebook that supports live streaming from LiveU units to Facebook Live.

The autonomous vehicle market is one of several growth engines the company is creating for the next few years, according to Wasserman. "It's very different from news broadcasting. In news broadcasting we can afford a one-second delay, but for cars that second is a matter of life or death. We've managed to reduce the delay to 100 milliseconds, which is considered acceptable in the automotive world."

The company did so by developing over the past year a system that connects individually to each of the six cameras of an autonomous vehicle, and also operates a data stream that integrates with the vehicle and enables remote control and monitoring of the wheel and other car components.

LiveU has already conducted a test run of its system in an autonomous vehicle in California, Wasserman revealed. Currently in advanced development stages, the system could be offered as part of an existing autonomous vehicle within a year, he added.