Israeli Officials Cozy Up to Philippine President Duterte
Currently on a four-day state visit to Israel, Duterte has met with Israel's Prime Minister Netanyahu and President Rivlin, and signed collaboration agreements between the two countries
Israel is tightening its ties with Philippine President Rodrigo Duterte. On Sunday, Duterte landed at Israel's Ben Gurion airport, making him the first Philippine president to officially visit the country. He met with Israeli Prime Minister Netanyahu on Monday to discuss economic and transportation ties, including plans to establish direct flight routes connecting Israel and the Philippines. Duterte is often criticized for his "war on drugs" which led to thousands of fatalities in his country.

For daily updates, subscribe to our newsletter by clicking here.

As part of the Philippine president's state visit to Israel, representatives from both countries signed a series of agreements and memorandums concerning care for the elderly, science, commerce, and investments, Netanyahu announced in a Facebook post Monday.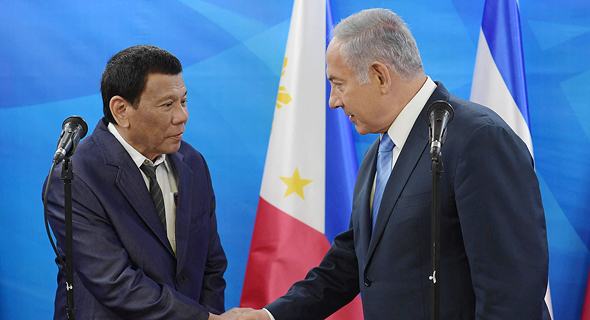 Philippine President Duterte (left) and Israeli Prime Minister Netanyahu. Photo: Marc Israel, The Jerusalem Post

Israel has a large community of some 30,000 Filipino migrant workers employed as caregivers for the elderly, according to data from Kav LaOved, a Tel Aviv-based nonprofit dedicated to maintaining labor rights in the Israeli industry. Most of these people are employed in the patients' homes on a 24-hour basis and are exempt from some Israeli labor laws, which limit the working week to 42 hours and determine increased pay for overtime.

Many of the workers coming from the Philippines to Israel are unlawfully forced to pay thousands of dollars in cash as brokerage fees to job placement companies to obtain their workers' permits. One of the agreements signed this week is meant to address the subject by regulating the immigration process and by taking job placement companies out of the loop. According to Netanyahu's video post, the agreement will also save Israeli patients thousands of shekels.

Known for his controversial statements, in August Duterte commented on the high number of rapes in his hometown of Davao, saying that "as long as there are many beautiful women, there will be many rape cases, too." In a 2016 speech, Duterte told then U.S. President Barack Obama he could go to hell, in response to the latter's criticism of his anti-drug policies. He has also called Pope Francis a "son of a whore" and he is known to say that he once threw a man off a helicopter, that he stabbed a man to death for looking at him wrong when he was 16, and that he would eat the liver of a terrorist.

Duterte's four-day-trip to Israel included a visit to the Jerusalem Holocaust memorial museum Yad Vashem on Monday. Duterte has been heavily criticised for drawing similarities between his "war on drugs" and the Holocaust. "Hitler massacred three million Jews... there's three million drug addicts. There are. I'd be happy to slaughter them," he said at a press conference following his election as president in 2016. On the same occasion, he also compared himself to Hitler, saying "Germany had Hitler," and then going on to say the Philippines would have him.

During his visit to the museum, which lists over six million Jews massacred during Hitler's regime and the Holocaust, Duterte called Hitler "insane," urging people to learn from history. "I could not ever fathom the spectacle of a human being going on a killing spree, murdering old men, women, men, and children," he said.

Over 12,000 people, most of them poor city dwellers of all ages, have been killed by anti-drug authorities in the Philippines since Duterte took office two years ago, according to data from New York-headquartered nonprofit Human Rights Watch Inc.

On Tuesday, protestors gathered outside the residence of Israeli President Reuven Rivlin as he met with Duterte, despite pleas from human rights organizations to cancel the event. During the meeting, Rivlin reminded Duterte that Hitler was "the devil on earth."

Duterte told Rivlin he has instructed his army to purchase military equipment solely from Israel, citing unspecified restrictions posed by the U.S., China, and Germany.

Israel is widely criticised for allegedly arming questionable regimes including Guatemala during the Guatemalan Civil War, South Africa during the Apartheid era, Iran during the reign of the Shah, and more recently South Sudan during the South Sudanese Civil War. According to data released by the Israeli Ministry of Defense in May, the export of Israeli arms reached $9.2 billion in 2017, up 41.5% from 2016.