Opinion
Why Flipkart Is Acquiring Israel-based Upstream Commerce
Tel Aviv-based Upstream Commerce will further strengthen Flipkart's selection and pricing capabilities with its advanced data science-based intelligent solutions, writes YL Ventures founder and managing partner
Last week, Walmart's Indian subsidiary Flipkart announced it was acquiring Upstream Commerce. Early-stage venture capital firm YL Ventures is Upstream's biggest investor prior to the buyout.

For daily updates, subscribe to our newsletter by clicking here.

Walmart is the world's largest company by revenue, generating over half a trillion dollars per year, as well as the world's largest private employer, with 2.3 million employees. Nevertheless, Walmart now faces a sizable threat from Amazon.

Amazon and Walmart are fierce competitors. Amazon has single-handedly devastated hundreds of retailers. If anyone has the means and motive to make a stand, however, it's Walmart. For years, Amazon has been eating up U.S. retail market share from Walmart. Walmart is fighting back on many fronts, deploying impressive in-store improvements (such as automated self-checkout systems) and innovative digital solutions (such as a revamped e-commerce app). Walmart has even gone on the offensive, recently launching an eBook service to challenge Amazon on its own turf.

Walmart has long-realized that the true growth potential lies not in the U.S., but in Asia's large, emerging economies. Whereas China's complex regulatory and market environment can hinder foreign companies' activities, India's market of over 1.3 billion people is far more accessible. Sensing the opportunity, Amazon and Walmart are scrambling to stake their claim. India's retail sector is growing 9% annually, while its e-commerce is growing at an even more impressive 36%, with projections to increase by 60% to $1.1 trillion by 2020. This growth far outpaces that of the U.S., and unsurprisingly, India is currently undergoing the biggest mergers-and-acquisitions boom in its history.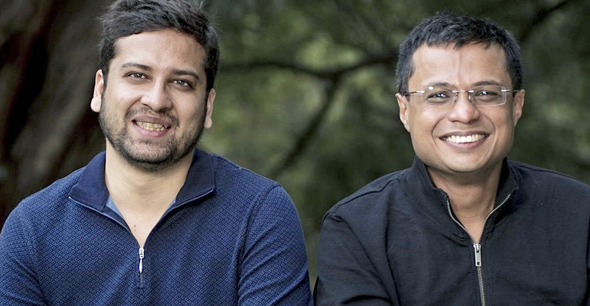 Flipkart founders Binny Bansal (left) and Sachin Bansal. Photo: Flipkart

Amazon has built a healthy e-commerce business in India, but up until 2018, Walmart had done very little in the country. At the start of 2018, Walmart was way behind, but a decisive move closed this gap overnight when the company acquired in May 77% of India's largest e-commerce company, Flipkart, for $16 billion. This acquisition gave Walmart a pole position in this critical international market, suddenly displacing Amazon as the market leader.

This is where the acquisition of Upstream Commerce enters the picture. Tel Aviv-based Upstream Commerce is poised to further strengthen Flipkart's selection and pricing capabilities and should bring advanced data science-based intelligent solutions to India to help local sellers boost sales and better serve Flipkart customers. The acquisition will help Flipkart establish Israel as an overseas innovation center to support e-commerce in India.

A technology-focused startup, Upstream Commerce builds cloud-based, automated competitive pricing and product analysis solutions. These solutions may strengthen Flipkart's ability to deliver insights to its sellers, helping them optimize their product assortment and pricing strategies and find gaps in the market to serve customers better. The acquisition is in line with Flipkart's vision to solve e-commerce challenges through technology innovations—through both in-house efforts and through inorganic routes—and should help provide wider selection and better pricing for Flipkart customers. The move further aims to strengthen Flipkart's innovation capabilities. Through added capabilities from Upstream Commerce, Flipkart may be able to provide its sellers with automated pricing and help them plan their selection in the most accurate, timely, and profitable way.

The founders of Upstream Commerce will continue to work out of Israel and will report directly to Flipkart. I can envision, in a few years, Upstream Commerce potentially powering pricing for other markets in the global Walmart empire. Walmart has shown a keen interest in and strategic appreciation of Israeli technology. We at YL Ventures know this first hand, with Adam Ely, vice president and deputy chief information security officer of Walmart, recently joining the firm as venture advisor.

Last but not least, a word about the founders. Upstream Commerce's CEO, Amos Peleg, and chief technology officer, Shai Geva, are entrepreneurs in the truest sense of the word: unrelenting and fiercely dedicated to their company, employees, and shareholders. They exhibited, time and time again, the traits we look for in founders: unwavering, confident, focused, persistent, visionary, prudent, creative, careful-while-aggressive, ethical, honest and kind. They demonstrated incredible skill and fortitude in navigating their venture to a very successful outcome, and the Walmart family is lucky to have them.

At YL Ventures, we are proud to have had the opportunity to seed Amos and Shai and to support them on this fantastic journey. We wish the team continued success and good luck as they take on this exciting, bold new challenge.

Yoav Leitersdorf is a founder and managing partner at YL Ventures, a Tel Aviv and Silicon Valley-based venture capital firm based that manages $140 million in assets. The firm has been a main investor of Upstream Commerce through its Seed, Series A and Series B rounds. This post was originally published on LinkedIn.