Paris Auto Show
We Are Not Going for Peak Performance, Our Goal Is to Deliver What Consumers Want, Says Auto Exec
Carlos Ghosn, chairman and CEO of the Renault–Nissan–Mitsubishi Alliance, spoke with BP CEO Robert Dudley and with the editor-in-chief of French financial newspaper Les Échos at the opening of the Paris Motor Show
The future of the car industry has less to do with the car itself and more to do with what services the car offers, according to Carlos Ghosn, chairman and CEO of the Renault–Nissan–Mitsubishi Alliance. On Monday, Ghosn participated in a panel on the automobile industry's electric revolution, held at the opening of this year's Mondial de l'Automobile auto show in Paris. The panel was moderated by David Barroux, editor-in-chief of French financial newspaper Les Échos, and also included Robert Dudley, CEO of multinational oil and gas company BP PLC.
For daily updates, subscribe to our newsletter by clicking here.
To emphasize connectivity and other in-car services, automakers today look to collaborations with tech companies. Last month, the Renault–Nissan–Mitsubishi Alliance announced a partnership with Google, who will provide Android-based infotainment systems to all the alliance's vehicles beginning in 2021. Asked about potential competition from the world's tech giants, Ghosn said that Renault–Nissan–Mitsubishi does not see them as threats.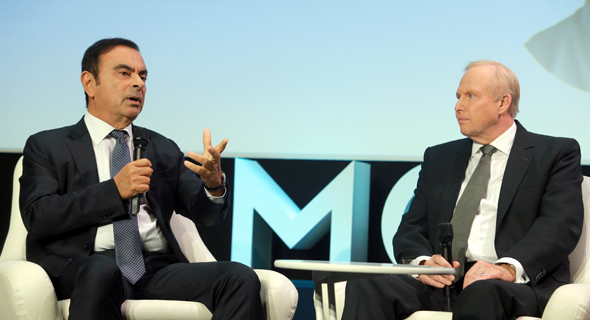 Carlos Ghosn (left) and Robert Dudley. Photo: Orel Cohen

"We have no intention to lose control over our product," Ghosn said, commenting on the recent Google deal. "When we signed a contract to put android in our cars it was after a long negotiation," he said. "We found common ground and the beneficiary is our user. A lot of people want to see this as a zero-sum game—if Google is in the car than it is going to take over content. It is not true. We are very careful. We want to continue building cars the way we want, but we also know that to build connected, autonomous cars with a lot of mobility services—we cannot do it alone."

According to Ghosn, Renault–Nissan–Mitsubishi is set to announce additional high-profile collaborations over the next 12 months, all geared towards developing electric, connected, and autonomous cars, "with us as architects."

Speaking on the topic of innovation in the auto industry, the panelists were asked about competition over young tech talent.

"Today one out of every five persons in BP has been there less than five years, so there is a lot of great young talent coming into BP," said Dudley, adding that people may not have the right impression of the company going in. "But then they see the technology that we have—AI, seismic imaging—it's a new world," he said.

Ghosn said that while a lot of young tech talent is drawn to startups over big-name companies, he does not see it as a risk. "We are at a time when startups attract a lot of enthusiasm," he said, noting that many of these startups are not ultimately successful. This leads to companies like Renault–Nissan–Mitsubishi eventually bringing in talent that is more mature, he said. "They have been through an experience where they value the company much more and they know what makes or breaks a company. So the combination of startups and big companies is very healthy."

Ghosn said that Renault–Nissan–Mitsubishi has projected that by the end of 2022, 10% of the cars it sells will be fully electric. Speaking on the challenges of marketing electric cars, Ghosn said that on average, people today spend six to seven minutes filling up gas at a station. Renault–Nissan–Mitsubishi's objective is to develop a fast-charging battery system that competes with that timeframe, he explained. "We don't need to go lower than that."

A good example for this is the range of the battery, Ghosn said. According to him, studies based on the company's electric car sales—some 600,000 to date—found that buyers are concerned with reaching a range of 300 kilometers. "After that, it is no longer a concern," he said. "So everything we are doing now is to make sure we are crossing the 300 km range. "We are not going for peak performance, we are going after satisfying what consumers want."