Israeli Women Entrepreneurs Rise Up to Correct Male-Only Merkel Photo Op
The German Chancellor was the only woman present at an event celebrating tech innovation and entrepreneurship in Israel, during her two-day visit to the country
A photo of German Chancellor Angela Merkel surrounded by Israeli tech luminaries sparked a controversy in Israel for failing to include women. During Merkel's two-day visit to Israel last week, the German chancellor attended an event celebrating Israeli and German tech innovation. In a picture taken at the event, the German chancellor is seen alongside Israeli Prime Minister Benjamin Netanyahu, Minister of Economy Eli Cohen, and Aharon Aharon, director of the Israel Innovation Authority, and over twenty other men. Merkel is the only woman in the picture.

For daily updates, subscribe to our newsletter by clicking here.

Several Israeli news outlets reported that during the event, Merkel noted the lack of female presence, suggesting that next time women should be invited.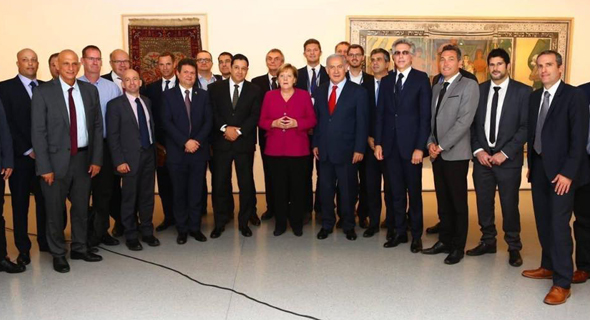 Angela Merkel and men. Photo: Facebook

Many in Israel took to social media to criticize the country's Ministry of Foreign Affairs for failing to represent the many women in the Israeli tech industry. On Saturday, WMN, a coworking space and community supporting women-led ventures in Israel, posted an event to Facebook calling for women in Israel to come together and take a new, more representative photo of Israeli tech innovators. The event, set to take place on Wednesday in front of the Tel Aviv City Hall, is said to feature a life-size cardboard cutout of Merkel. By Sunday night, more than 200 people, mostly women, marked themselves as "going" to the event.

The Israeli foreign ministry issued an apology Saturday, saying the organizers did not notice the absence of women and that they regret not inviting women to attend.