Interview
Small Businesses Are the Most Archaic Insurance Niche, Says Next Insurance Co-Founder
Next Insurance offers customized insurance policies in real-time to small business owners through an online platform
When the founders of Next Insurance Inc. were thinking of establishing a new company, they were looking for an industry in need of a shake-up. The choice fell on supplying insurance to small businesses, a sector the team of executives found to be "the most archaic insurance niche," co-founder Nissim Tapiro explained in a September interview with Calcalist. It was also "one of the most complicated for customers," he added

For daily updates, subscribe to our newsletter by clicking here.

Co-founders Tapiro, Guy Goldstein, and Alon Huri set up the company in 2016, with the aim of offering small business owners customized insurance policies that could be bought in near real-time through an artificial intelligence-supported online platform.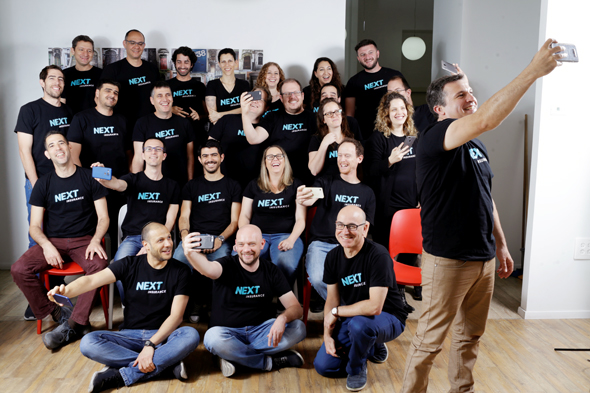 Next Insurance's team. Photo: Amit Sha'al:

The company has already raised $130 million, the latest round being an $83 million Series B in July, and employs 40 people in Israel and 40 in Palo Alto. For the first half of 2018, Next Insurance reported sales of $22 million, up from $3 million in the first half of 2017.

Goldstein, Huri, and Tapiro previously worked together as the executive team at Check Inc., a mobile payment company that was acquired by business and financial software company Intuit Inc. for $360 million in 2014.

At Check, the executive team took many wrong paths, Tapiro who served as the company's vice president of research and development said. With Next Insurance, therefore, the emphasis from day one was on a strong business model and on being able to sell as soon as possible.

Targeting small and medium businesses means the company has to handle very diverse professions.

"There's a huge range of clients—electricians, lawyers, fitness coaches, pre-school teachers—and everyone needs a different kind of insurance," Tapiro said. "It was due to this complexity that we saw this market as an opportunity."

Next Insurance's founders are looking to grow the company, not sell it, Goldstein said, which they intend to do through equity investments.

"We only support 40 types of business out of thousands, and we mostly sell third-party insurance," Tapiro explained. "We need to be at a place where a small business can receive all its insurance needs. A restaurant, for example, needs insurance for the building, for the employees, and for other aspects of its daily operations. What we need to grow as a company is to connect it all together."