Instant Insurance Startup Next Insurance Becomes Licensed Carrier
The company offers real-time, customized insurance policies to small business owners through an online platform
Silicon Valley-headquartered startup Next Insurance Inc., which offers real-time, digital insurance to small business owners, has become a licensed insurance carrier, the company announced Thursday.

For daily updates, subscribe to our newsletter by clicking here.

Next insurance, which also has a development center in Israel, offers businesses such as kindergartens, yoga instructors, and home renovators personalized insurance policies that are issued within minutes. The policies can be bought through an online portal, and, as of March, buyers can immediately receive a digital insurance certificate that can be accessed online or through any mobile device. The online platform also enables clients to update their policies and payment information.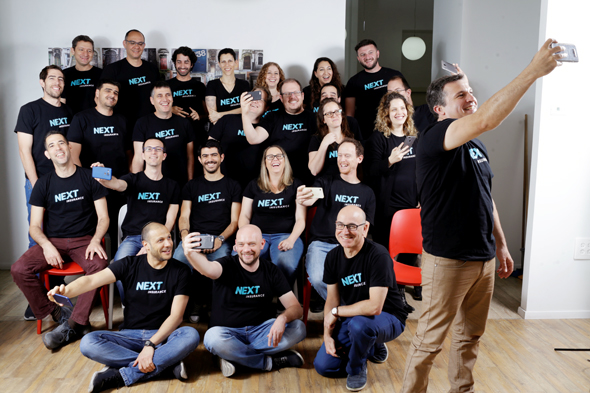 The Next Insurance team. Photo: Amit Sha'al

Next insurance reported $8.6 million in revenues from 15,000 customers in 2017, and raised $53 million in funding to date. The company employs some 50 people overall.

Next Insurance obtained its first carrier license in Delaware, and is currently expanding to all 50 states, the company said in a statement. Under its new carrier status, it said, Next Insurance can now write independent policies, and have more freedom regarding the underwriting, pricing and policy configuration. It will now also work directly with state insurance regulators.

Becoming an independent, licensed insurance carrier is a big step forward towards a more modernized insurance industry, said Next Insurance Co-Founder and CEO Guy Goldstein in a statement. "Being a carrier gives us the freedom to provide the most advanced policies on the market."