Amir Yaron Selected as Next Governor of the Bank of Israel
Yaron will replace Karnit Flug, who on Monday made her last decision as sitting governor, keeping the interest at 0.1%
Economist Amir Yaron will be replacing Karnit Flug as Bank of Israel Governor, Israeli Prime Minister Benjamin Netanyahu and Israeli Minister of Finance Moshe Kahlon announced Tuesday. The appointment is still pending government approval.

For daily updates, subscribe to our newsletter by clicking here.

Yaron, 54, holds a dual Israeli-American citizenship and has spent the last 20 years in the U.S. He holds a master's degree in economics from Tel Aviv University, and a master's in economics as well as a doctorate in economics from the University of Chicago. He is currently a professor of banking and finance, and of economics at the University of Pennsylvania.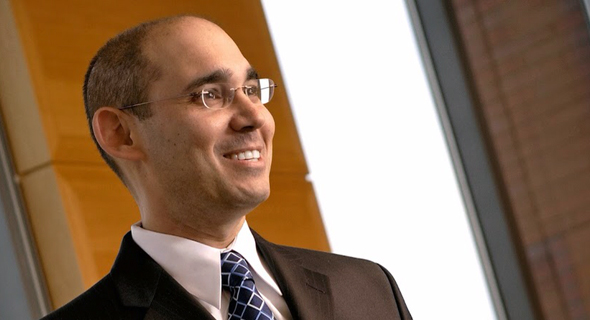 Amir Yaron. Photo: savage.wharton.upenn.edu

Yaron is also the current president of the Foundation for the Advancement of Research in Financial Economics (FARFE), and the co-head of the capital market and the economy group at the National Bureau of Economic Research, an American non-profit.

He did not serve in a management role prior to Tuesday's appointment.

Flug, the bank's governor since November 2013, will step down in mid-November. On Monday she made her last major decision in the position, keeping the interest rate at 0.1%, the same rate she has kept since March 2015 despite government pressure. The next decision regarding the interest rate will be made in late November, after Flug has vacated her seat.

In Monday's press conference, Flug criticized the time it took to select a new governor. "I sincerely hope that the process will end quickly and that the next governor is suitable in terms of professional skills, management skills, and perseverance," she said. "In a well-run country, such roles are usually manned well ahead of time."

Flug also referred to the challenges facing the next governor. The challenge in monetary policy is to find the normalization process appropriate to the economy, and that means finding the balance and not going either too fast or too slow while still planning enough ahead, she said.

Israel's government must ensure it keeps the country's fiscal infrastructure stable, meeting oncoming challenges without upping the deficit or straying from its debt reduction strategy.

"The ability to carry out fiscal maneuvers in the future must be maintained," she said.