Israeli Innovation Hub Gets Top Marks in Global Competitiveness Index
Israel was ranked 20th out of 140 countries on the index, weighed down by cumbersome business-related bureaucracy
Israel was ranked in 20th place out of 140 countries on the World Economic Forum's Global Competitiveness Index, published Tuesday. Israel was ranked in 16th in the index published last year, but dropped four places due to recent changes in the way countries are evaluated. The U.S., Singapore, and Germany were ranked first, second and third, in that order.

For daily updates, subscribe to our newsletter by clicking here.

The WEF is a nonprofit foundation established in 1971 with the mission to engage international business, political and academic leaders in the promotion of global economic agendas. Published since 2004 and based on publicly available data from sources such as the United Nations, the Global Competitiveness Index attempts to evaluate the potential level of productivity and prosperity the world's economies can achieve, taking into consideration factors such as institutions, infrastructure, education, labor, financial and goods markets, available technologies and capacity for innovation.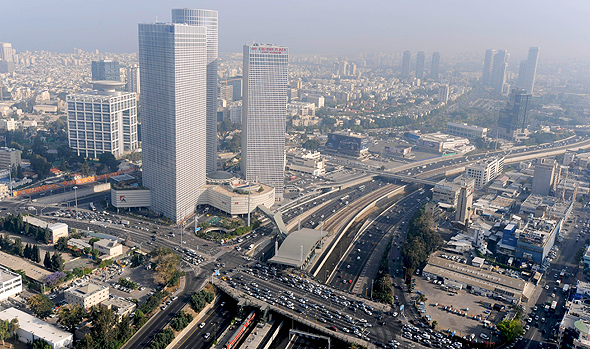 Tel Aviv. Photo: Bloomberg

This year, the ongoing effects of the 2008 recession and the accelerating shifts in industry prompted the authors to change some of the parameters, dropping some of the traditional macroeconomic and health-related indices where Israel usually scores high, and giving more emphasis to finance and labor-related bureaucracy and regulation.

Israel's was ranked 14th on the human capital skills subcategory in the current report, and fifth on "business dynamism", where the country's relatively low 30th place on administrative requirements weighed down its second place for entrepreneurial culture.

Israel was ranked second only to the U.S. on the availability of venture capital, seventh on meritocracy and incentivization, and eighth on corporate governance.

The report's authors positively note Israel's innovation system, its 4.3% out of total GDP spent on research and development —the highest among all countries listed—and its eighth place on mean schooling years, noting the country has an "extremely educated workforce."

All those will contribute to making Israel "one of the world's innovation hubs," according to the report authors, "where entrepreneurial failure is most accepted and innovative companies grow the fastest."

Israel scores particularly low on several business-related bureaucratic subsectors in the report. The country came at the 90th place on budget transparency, at 125th place on the ease of hiring foreign labor, 74th on the time it takes to start a business, 81st place on the complexity of tariffs, and at 92nd on annual percent change in consumer prices.