UEFA Folds, Israeli Broadcaster Kan to Air Soccer Games in West Bank
Kan won a bid for the rights in 2017 but UEFA's refusal to let the broadcaster air games in Arabic in the West Bank threatened the contract
The UEFA (Union of European Football Associations) has agreed to let Israel's national broadcaster Kan air the games of the Israeli national soccer team in the West Bank in Arabic during the upcoming European qualifiers, a Kan spokeswoman confirmed to Calcalist Wednesday.

For daily updates, subscribe to our newsletter by clicking here.

Kan won a bid for the rights to broadcast the games in November 2017, but did not manage to come to an agreement with UEFA over the terms of the contract, due to UEFA's demand that Kan will broadcast the games to Israeli citizens living beyond Israel's 1967 lines only in Hebrew and English and not in Arabic.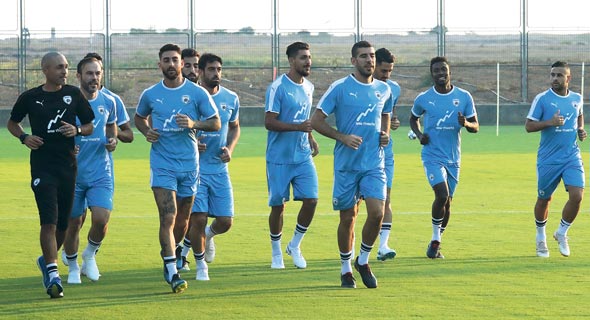 Israel's national team. Photo: Oren Aharoni

Israeli newspaper Yedioth Ahronoth, which first broke the story earlier this month reporting that Kan may waive the rights of broadcast altogether, attributed UEFA's restrictions to the fact that a Qatari company acquired the rights to broadcast the games in Arabic the Middle East and North Africa, including in the Palestinian territories. A UEFA spokesperson confirmed to Calcalist at the time that Kan could broadcast matches in the West Bank in Hebrew and English but did not comment on the claim that it was barred from broadcasting in Arabic.

Kan has received the new contract from UEFA, the spokeswoman told Calcalist, but it is yet to be signed.