Required Not to Air Games in the West Bank, Israeli Broadcaster May Waive UEFA Rights, Report Says
Kan won the rights to broadcast the games of the Israeli national football team during the next UEFA European Championships, but the contract forbids it from broadcasting to Israeli citizens living outside Israel's 1967 lines
Israel's national broadcaster Kan may waive the rights to broadcast the games of the Israeli national football team during the next UEFA (Union of European Football Associations) European championship and the FIFA world cup, according to Israeli newspaper Yedioth Ahronoth. The reason: UEFA's demand that Kan will not broadcast the games to Israeli citizens living beyond Israel's 1967 lines, namely the West Bank. Kan won a bid for the rights to broadcast the games in both Hebrew and Arabic in late 2017.

For daily updates, subscribe to our newsletter by clicking here.

On a phone call with Calcalist Sunday, a spokeswoman for Kan confirmed that the contract Kan received from UEFA after winning forbids it from broadcasting in the "Palestinian territories." Kan has refused the terms since it had first received the contract, the spokeswoman said, and is adamant that the rights must include the ability to broadcast to all Israeli citizens regardless of their place of residence. She did not comment on the broadcaster's intention to waive its rights to broadcast the games.

A UEFA spokesperson confirmed to Calcalist that Kan could broadcast matches in the West Bank in Hebrew and English, but did not comment on the claim that it was barred from broadcasting in Arabic.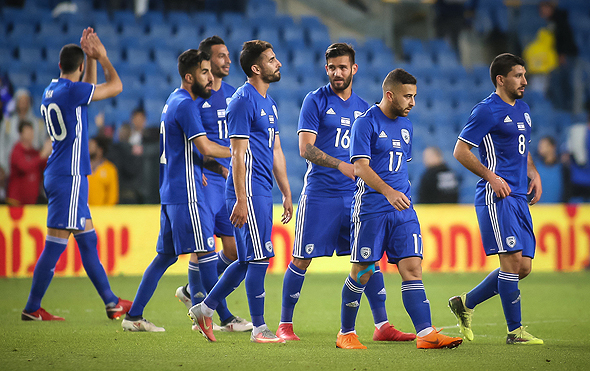 Israel's national team. Photo: Oz Mualem
Citing people within Kan, Yedioth reported UEFA's demands are a result of a Qatari company acquiring the rights to broadcast the games in the Middle East and North Africa, including the Palestinian territories. This includes any Israeli settlements in the West Bank.
According to Yedioth, Kan has been attempting to renegotiate the contract over the past year with the stipulation that direct satellite broadcasting will be unavailable in those territories, and only owners of Israeli television set-top boxes would be able to receive the broadcast. This was the model Kan used during the last world cup. However, the current tender was not negotiated through the European Broadcasting Union, as the last world cup was, but through an American company that is placing different restrictions.
Despite Kan's attempts, a different contract has not been agreed upon until now, according to Yedioth.
Several Israeli politicians reacted strongly to the report, with Israel's Minister of Culture Miri Regev criticizing UEFA for failing to ensure politics would not have an effect on sports.
Earlier this year, Israeli government plans to turn Kan's news division into a separate independent entity threatened Israel's eligibility to host the Eurovision song contest in Israel in 2019, leading the Israeli parliament to approve a bill to cancel its plan.