Beijing-Based Guoshu Technology Signs $50 Million Agreement With Israeli Digital Playtime Startup EyeClick
EyeClick develops an interactive gaming platform that can convert any physical space to an active gaming site, by using a projection screen combined with dual motion sensors
Israeli startup EyeClick Ltd. announced on Tuesday it has signed a strategic cooperation agreement with Beijing-based Guoshu Technology Company Ltd. as part of which the latter will import Eyeclick's software products worth around $50 million by 2023, and open a manufacturing center for the company's products in China, according to a company spokesperson.

For daily updates, subscribe to our newsletter by clicking here.

EyeClick develops an interactive gaming platform that can convert any physical space to an active playtime site, by using a projection screen combined with dual motion sensors. In a statement released Tuesday, the company said more than 200 interactive games are loaded onto its hardware. The technology is also used in hospitals to help younger patients regain muscle strength through games.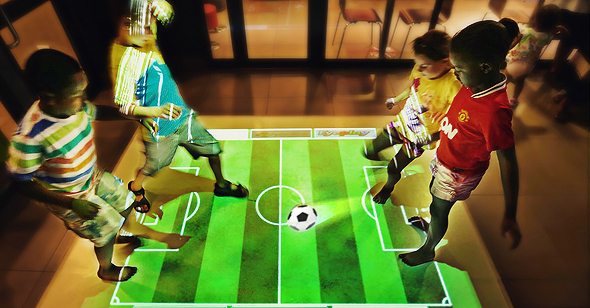 EyeClick's interactive playtime setup. Photo: PR

Founded in 2004, the company lists McDonald's Corporation, Domino's Pizza, Inc.and IKEA Systems B.V. It employs around 60 people according to its statements, in offices in Israel, Vietnam and the U.S. The company has raised $2 million to date from private investors, according to a company spokesperson.

Yuan Guoshu, chairman of Guoshu Technology, and Ariel Almos, CEO of Israel's EyeClick, signed the agreement at the China International Import Expo, an event hosted by by China's Ministry of Commerce held in Shanghai.

In 2016, EyeClick sold exclusive distribution rights of its products in China to Guoshu.