Interview
FSD Pharma Co-Chairman on Where the Cannabis Industry Is Headed
On a visit to Israel, the co-chairman of the company said he believes cannabis research is going to come from Israel and Australia. He expects China to become a significant player in the cannabis market
Asked about his personal forecast for the global cannabis market, FSD Pharma Inc. co-chairman Raza Bokhari told Calcalist that while most of the cannabis-related patents are going to be filed in the U.S., the lion share of new research is going to come from Israel. Australia, he added, is quickly catching up. Israel, he said, has a substantial head start in the field. Bokhari also expects China to become a significant player in the future cannabis market.

For daily updates, subscribe to our newsletter by clicking here.

A medical doctor by training, Bokhari was appointed co-chairman of Toronto-headquartered FSD Pharma in October. From this position, he intends to help lead the company, a licensed producer of marijuana, as it ventures further into the business of medical cannabis.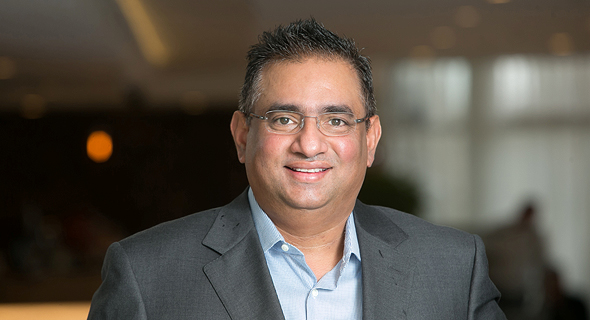 Raza Bokhari. Photo: Orel Cohen

Bokhari spoke to Calcalist while on a visit to Israel earlier this month.

Founded in 1994 as a financial services company under the name Century Financial Capital Group, the company was renamed FSD Pharma in May, following a merger with Canadian cannabis producer FV Pharma Inc. The company listed on the Canadian Securities Exchange on May 28.

Canada legalized the medicinal use of cannabis in 2001. Earlier this year, on October 17, the Federal Cannabis Act came into effect, making Canada the second country in the world to legalize recreational marijuana use. Uruguay did it first, in 2013. In 2017, nearly 5 million Canadians spent an average of about C$1,200 each on marijuana, or a total of C$5.7 billion, according to Canadian federal data.

According to Deloitte's 2018 report on Canadian cannabis, the total market in the country is expected to generate up to $7.17 billion in sales in 2019.

But while cannabis is slowly becoming one of Canada's premier markets, FSD Pharma is targeting its medical products to the U.S. Every drug targets the U.S., the world's premier market, Bokhari said. "What is good for America, is good for the rest of the world. Everything to do with pain management, for example, the U.S. is a highly relevant market," Bokhari said. "The issue of pain is considered very important for the American patient."

In October, FSD Pharma announced its intention to acquire Nasdaq-listed Therapix Biosciences Ltd., a clinical-stage Israeli developer of cannabinoid-based drugs, for $48 million worth of FSD Pharma stock—nearly three times its market value. The deal is still pending approvals.

Bokhari oversaw the negotiations as the co-chairman of the company.

The expected Therapix merger is the company's way of signaling that it is focusing on cannabis' pharmaceutical aspects, Bokhari told Calcalist. FSD Pharma believes in Therapix because of its focus on synthetic cannabinoid drugs, which FSD prefers over botanical cannabis, he said. The potential of synthetic drugs in the commercialization phase is greater, especially for treatments of the central nervous system and immune system diseases, he added, speaking while on a visit to Israel.

Founded in 2004, Therapix develops drugs for the treatment of neurological conditions, pain management, and infectious diseases. Its therapies are based on a cannabis compound called Dronabinol, a synthetic THC that has already been approved by the U.S. Food and Drug Administration for the treatment of conditions such as chemotherapy-induced side-effects.

"As a doctor who spends a lot of time in labs, I'm looking for the pharmacological angle," Bokhari said. "When people ask what is better, a plant-based drug or a synthetic one, most people would choose plant-based. A doctor would usually prefer synthetic because he can trust it." Production of synthetic cannabinoids is also much faster, he said.

In September, FSD has made a strategic investment in another Israeli company, SciCann Therapeutics Inc. It will fund research on cannabinoid-based treatments for the prevention and treatment of cardiovascular diseases.