Airbnb Facing Lawsuit in the U.S. Over Israeli Settlements Ban
A group of 18 Americans has filed a lawsuit in Delaware against Airbnb following the company's announcement that it will be removing listing in Israeli settlements in the West Bank
A group of 18 Americans has filed a lawsuit in Delaware against Airbnb, following the company's announcement that it will be removing listing in Israeli settlements in the West Bank from its service. More than 25 states have enacted legislation against boycotting Israel.
For daily updates, subscribe to our newsletter by clicking here.
Airbnb's announcement of the planned removal of settlement listings came a day before the New York-based nonprofit organization Human Rights Watch was set to publish a report outlining the company's activities in the West Bank. The report lists 139 properties in Israeli settlements in the West Bank listed on Airbnb's service.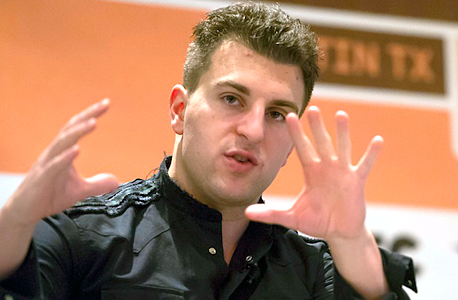 Airbnb's CEO Brian Chesky. Photo: Bloomberg

Secretary-General of the Palestine Liberation Organization (PLO) Saeb Erekat praised the company's decision.

Israeli officials have since criticized the company, and several Israeli ministries are involved in efforts to try and overturn it.

Israel's Minister of Strategic Affairs Gilad Erdan stated that he will act "in all possible ways to cancel the decision discriminating against citizens in the State of Israel". On Wednesday, Erdan sent letters to five governors in the United States, asking them to look into possible sanctions that can be taken against the company, according to a statement sent to Calcalist Wednesday.

The Republican governor added that "Airbnb should reevaluate and reverse" this policy.

"We're going to review how Florida interacts with Airbnb," he said.

Conservative news website The Washington Free Beacon cited Texas Senator Ted Cruz (Rep.) as saying Airbnb should reverse its decision, in an interview published Wednesday.

A Reuters report Thursday cites a statement by Airbnb, according to which the company believes the lawsuit will not succeed in court.

In Israel, a class-action lawsuit against the company was filed to a Jerusalem court last week. It was filed by Ma'anit Rabinovich, a Jewish settler from the West Bank settlement of Kida, located approximately 45 kilometers north of Jerusalem. The rental company has not notified Rabinovich when her apartment listing will be removed from its service.

Airbnb said in a statement quoted by Reuters that they "don't believe this lawsuit will succeed in court." The case is Silber et al v Airbnb Inc, No. 18-01884.