Sirin Lab's Cold Crypto Wallet Phone Finney Released with High Aspirations
The Israel-based company, which previously offered the $15,000-a-unit Solarin, is retailing the device at $999
Sirin Labs, the Israel-based company that previously offered the short-lived "world's most secure phone" Solarin with a price tag of $17,000, has officially launched its cryptocurrency-oriented smartphone Finney on Thursday with a retail price of $999.

For daily updates, subscribe to our newsletter by clicking here.

Sirin discontinued the production of the Solarin in March 2017, letting a third of its employees go, and announced a pivot to blockchain in September. In December, the company raised $157.8 million in an initial coin offering intended to finance the development of Finney. Today the coin, SRN, trades far below its ICO price.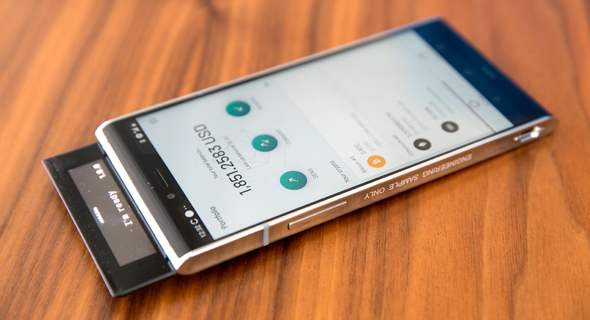 Finney. Photo: Orel Cohen

The launch comes at an inopportune moment for Sirin, and for crypto investors. Bitcoin ended November at the worst monthly decline seen in seven years, dragging other cryptocurrencies down. The coin is now trading at $4,109.75, far below its almost $20,000 peak in mid-December 2017.

Sirin's Finney Android, which the company states is the first blockchain-based phone on the market—HTC's blockchain-based phone is set to hit the market in December—has a "proprietary operating system," a Qualcomm Snapdragon 845 processor, 6GB Ram, and 128GB of storage.

The feature that sets it apart from other high-priced options on the market is its built-in cold storage crypto wallet, which slides open from the phone's top as a secondary screen.

According to the company, the wallet, which has its own secure hardware, can only be accessed by the phone's software when the screen is open. The wallet enables users to store encrypted crypto keys, receive funds from other Finney users via QR codes, and verify blockchain addresses. The phone also has a decentralized app store, called dCENTER.

"There's not much innovation in the mobile market in recent years," Sirin Labs co-founder Moshe Hogeg told Calcalist in an interview. "To take on the market, you need to do something a little different. This time we chose to target the niche of everyone who believes in blockchain technology. We have no fantasy of beating Apple or Samsung at their own game."

Leo Messi is the company's brand ambassador and was present at the company's Barcelona launch.