Netanyahu Makes Light of Fraud Allegations
On Sunday night, the prime minister spoke at his party's annual Hanukkah celebration joking about the plethora of allegations pending against him
Israeli Prime Minister Benjamin Netanyahu called recommendations published by Israeli police to charge him and his wife with fraud a part of an ongoing "witch hunt." He was speaking at an annual Hanukkah candle lighting ceremony hosted Sunday by Israel's ruling Likud party, which he leads.

For daily updates, subscribe to our newsletter by clicking here.

On Sunday, Israel's police and the Israel Securities Authority recommended charging Netanyahu and his wife Sara with fraud and bribery. The recommendations are the culmination of "Case 4,000," one of several investigations involving Netanyahu that are currently in progress.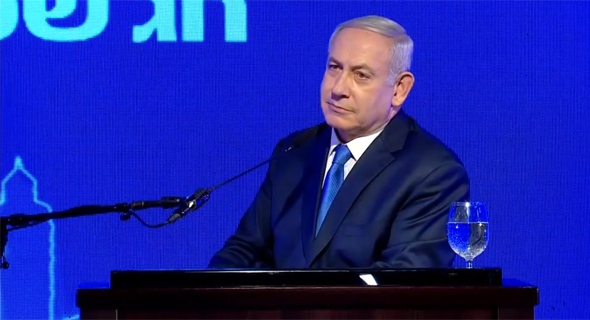 Netanyahu's speech at Likud's annual Hanukkah celebration.

Having started in 2017 as an investigation concerning security violations at Israel's biggest telecommunication company Bezeq, the probe uncovered potential evidence that Netanyahu gave the company preferential regulatory treatment in exchange for positive coverage of him and his wife on Walla, an Israeli news site owned by Bezeq.

The police's announcement came less than 24 hours before Israel's police chief Roni Alsheikh is set to step down, following a three-year tenure, in which he was repeatedly scolded by Netanyahu and members of his cabinet.

According to Jewish tradition, Hanukkah commemorates a miracle that allowed a single jug of oil to light the Jerusalem temple for eight nights. Netanyahu jokingly referred to the timing of the police recommendations as "a real Hanukkah miracle."

On Sunday night, the prime minister released a Hanukkah video, cracking jokes about the plethora of allegations pending against him.

In the video, Netanyahu speaks to fellow customers while waiting in line to buy sufganyot, traditional holiday doughnuts.

When the number 6,000 suddenly flashes on a screen, the person Netanyahu is speaking to reacts in shock, apparently thinking this represents another case against the prime minister, referencing cases dubbed 1,000, 2,000 and 4,000, in which Netanyahu has been a suspect. "That is your number in line or the number of calories you are going to eat," Netanyahu laughs reassuringly.

It should be noted that Netanyahu tweeted a sneak peek of the filming of his video on Thursday, perhaps indicating he was aware of the intended timing set for the publication of the police recommendations.

Far from having no interest in local media, the Israeli Prime Minister doubled as the country's Minister of Communications between 2014 and 2017 and several of the investigations against him refer to alleged attempts to control press coverage.

Since Netanyahu took office as prime minister in 2009, Israel dropped 41 places in a world press freedom Index published annually by Paris-headquartered nonprofit Reporters Without Borders. In the 2018 rankings, Israel came in 87th out of 180 countries. In 2008 the country was ranked 46th.

While the police recommendations are unlikely to evict Netanyahu from his seat, Israel's next parliamentary elections are currently slated for November 2019, and likely even earlier. Coalition partners have previously stated they would not be leaving the coalition unless a full indictment was filed against Netanyahu. However, recent crises such as the resignation of Israel's defense minister Avigdor Lieberman reduced Netanyahu's coalition to a flimsy majority last month, and may have shifted loyalties.