Country-Wide Protest in Israel Against Violence Targeting Women Blocks Roads, Delays Flights
Women and men across Israel are protesting Tuesday the heightened rate of violence against women in the country, which protestors are calling "a national state of emergency"
Women and men across Israel are protesting Tuesday the heightened rate of violence against women in the country, which protestors are calling "a national state of emergency." Across the country on Tuesday morning, protestors mobilized by local human rights organizations and social media campaigns were encouraged to walk out, demonstrate, and block roads for 24 minutes in memory of the 24 women and girls murdered this year in various acts of domestic and gender-based crime.

For daily updates, subscribe to our newsletter by clicking here.

Throughout the country, spontaneous acts of civil rage took place alongside planned actions such as public art installations, marches, and demonstrations. Demonstrators blocking roads in the vicinity of Israel's Ben Gurion airport were cause for delayed flights. Major traffic arteries were blocked in Tel Aviv, Jerusalem, and other cities.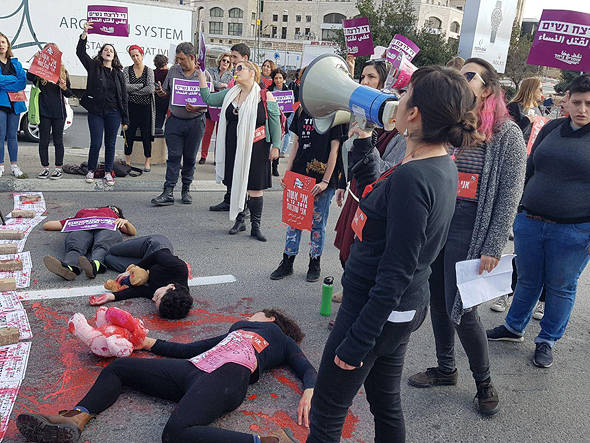 Protesting violence against women. Photo: Ynet News

Protest organizers are demanding the government approves a budget of approximately $67 million (NIS 250 million) for an emergency five-year plan to curb violence against women, which was already ratified in 2017. The plan includes the placement of specialized social workers at police stations, the use of electronic cuffs against abusive men, the establishment of shelters for pregnant victims of violence, and rehabilitation programs for abusive men. Organizers also called for additional preventative programs to battle domestic violence.

The main protest is set to take place Tuesday night in front of the Tel Aviv City Hall, a plaza that has been the stage for numerous memorable civil protests over the last decades.

Tuesday's protests are the culmination of a series of small-scale protest activities that engulfed the country in recent days, following the consecutive murders of two young girls. On November 26, 13-year-old Sylvana Tsegai, an Eritrean refugee living in Tel Aviv, was murdered, allegedly by her mother's partner. After her death, it was reported by several Israeli media outlets that she was known to welfare authorities as a victim of domestic violence.

That same day, the body of 16-year-old Yara Ayoub was discovered in her hometown, the Arab Galilee town of Jish, following a five-day search. Twenty-two other women ranging in age from 19 to 91, were killed by a partner, a family member, or someone they knew since the beginning of 2018, the most women killed in one year in the country since 2011.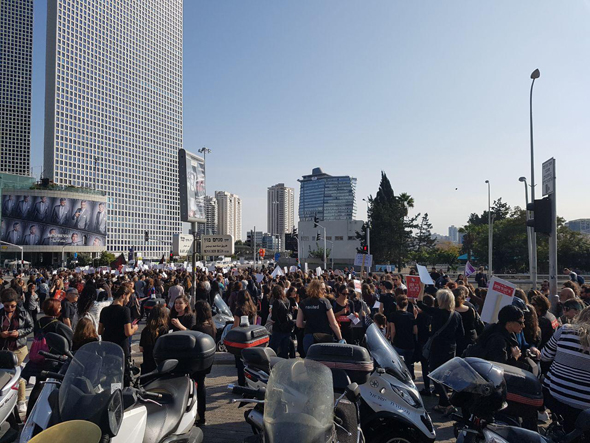 Protesting violence against women. Photo: Shachar Hai

Many local celebrities and politicians took to social media to proclaim support of the cause under the Hebrew hashtag "state of emergency."

Several local authorities, workers organizations, and companies have expressed their support of the cause. Many of these organizations said they will allow employees to partake in protest activities throughout the day, or for several hours during the day, with most adding that employees who choose to go on strike will do so at the expense of their own paid vacation days.

Among the tech companies who have expressed support are eBay, Google, Facebook, Mobileye, ridesharing company Via Transportation inc., online gig marketplace Fiverr Int. Ltd., and cybersecurity startup CyberInt.

A number of social media users and Israeli media outlets have pointed out that fewer companies and organizations have expressed their support of the women's plight when compared to July's LGBTQ protests, sparked by the Israeli parliament's failure to approve equal surrogacy rights to the country's gay population.