As LGBT Protest Sweeps Israel, Business Sector Rallies in Support
On Wednesday, Israeli parliament approved a new surrogacy law that fails to extend the right to use surrogate mothers to the country's gay population
On Wednesday, Israeli parliament approved a new surrogacy law that fails to extend the right of couples to use surrogate mothers to the country's gay population. In response, members of the Israeli LGBT community and their supporters protested in Tel Aviv and Jerusalem on Wednesday evening. Now the community is escalating its demonstrations with a call for a general strike on Sunday, and many international companies operating in the country and Israel-based businesses are voicing their support.

For daily updates, subscribe to our newsletter by clicking here.

Several other laws with wide-reaching implications were passed in Israeli parliament Wednesday night, before the parliament goes to recess for a period of almost three months. These include a bill that defines Israel as "the national home of the Jewish people," establishing the Jewish calendar as the official calendar, downgrading the Arab language from an official language to a "special" one, and declaring Jerusalem as the Israeli capital. The law was somewhat softened from its original framework following criticism from several notable political players, including president Reuven Rivlin, but still drew protests from the political left and from Israel's Arab population.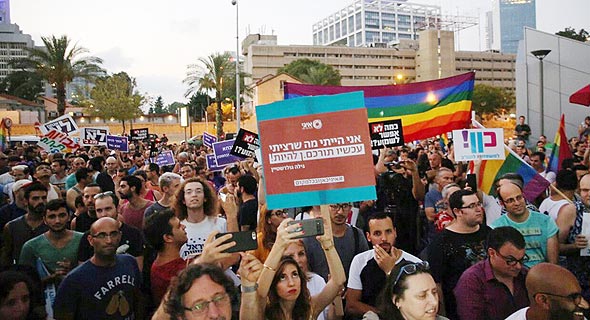 Wednesday's demonstrations in Tel Aviv. Photo: Moti Kimchi.

LGBT Task Force, the Israeli non-profit for LGBT rights that is organizing the strike, said the protest is meant to address more than just the latest law. The organizers have said they are protesting years-long and widespread discrimination in a country that, on one hand, expects them to fill their societal obligations such as taxes and military service while enthusiastically courting the international pink dollar, and on the other hand, denies gay rights such as same-sex marriage and adoption.

Much of the ire is directed at Israeli Prime Minister Benjamin Netanyahu who published a video expressing support for a clause that would have offered the option of contracting surrogates to men on Monday—but at the last minute ended voting against it. Following Wednesday's demonstrations, Netanyahu stated he is pushing for a new separate bill based on the contested clause.

The list of countries allowing in-country surrogacy for gay couples includes the U.S., Canada, and Australia, as well as several European countries like the U.K., Denmark, Belgium and the Netherlands.

With some of Israel's politicians from the left and center speaking out against the law in its current, exclusionary form, Israel's business sector has followed suit.

Both international and Israeli companies have criticized the law and published messages in support of the protesters, granting employees who intend to strike on Sunday the day off. Notable names include IBM, Israeli web and mobile monetization company IronSource Ltd., online genealogy company MyHeritage Ltd.

Microsoft's Israeli unit and chipmaker Mellanox Technologies Ltd. announced they would provide a NIS 60,000 grant (around $16,500) for any employee turning to surrogacy, regardless of sex, marital status or sexual orientation, with Mellanox promising an additional month of parental leave.

Assaf Rappaport, the manager of Microsoft's Israeli research and development center, wrote in a Facebook post that he would join the strike. Tel Aviv-based software company Natural Intelligence has already made a similar announcement last year, promising NIS 50,000 ($13,700) grants for any LGBT employee applying for surrogacy.

Israeli travel agency Gulliver Tourism, Israeli travel price comparison website Travelist and low-cost flights search app Hulyo all announced that employees applying for surrogacy will receive plane tickets to and from the country offering the process.

Advertising agencies have also chimed in. BBR Saatchi & Saatchi has further partnered with LGBT Task Force to plan Sunday's strike.

Procter & Gamble and SodaStream voiced their support and gave the day off to striking employees. Tel Aviv city and Ra'anana, a town in central Israel, voiced their support, as did soccer club Hapoel Katamon Jerusalem F.C.

Sunday is Tisha B'Av, an annual fast day in Judaism. Though most of Israeli employees do work on Tisha B'Av, it is considered a "choice day" and people can choose not to work. Israeli employees are entitled to two choice days a year on certain religious occasions.