Teva, Mylan Drop on Announcement of Epinephrine Injector Rival
Novartis' U.S. division Sandoz announced a planned release for early 2019. The company will sell its drug, which lacks the EpiPen's auto-injector, for $250 a pair out of pocket, compared to Mylan and Teva's $300
Sandoz Inc., a U.S. division of pharma multinational Novartis International AG, has announced on Thursday the early 2019 U.S. release of a 0.3 mg epinephrine injection, manufactured by Adamis Pharmaceuticals Corp. under the name Symjepi.

For daily updates, subscribe to our newsletter by clicking here.

Epinephrine is a hormone used to treat anaphylaxis, a severe allergic reaction to food or insect stings that can be fatal if not treated immediately. The market dominator for many years has been Mylan NV's EpiPen, for which Teva Pharmaceutical Industries Ltd. has recently launched the first FDA-approved generic version in the U.S. Mylan has been experiencing product shortages since the spring due to manufacturing issues, and Teva's release has been limited as well.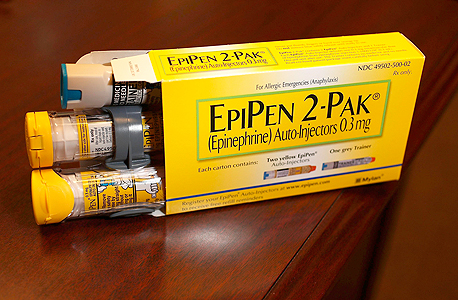 EpiPen. Photo: AFP

Symjepi is different from Mylan and Teva's EpiPen, which uses an auto-injector that calibrates the dosage very precisely and allows inexperienced users to use it easily. Rather, Symjepi has a needle cap that needs to be removed before use. Sandoz announced it will sell a pair for $250 without insurance, compared to Teva and Mylan, which sell their generic version at a wholesale price of $300. Mylan has been subject to repeated criticism regarding its EpiPen price hikes, which caused a pair to go from around $60 in 2007 to over $600 for a non-generic pair now.

Teva was down 4.29% on NYSE on Friday market close. Mylan was down 4.05% on Nasdaq the same day.