Mind the Data
Israeli Execs Weigh In on Big Data and AI Impact
Israeli entrepreneurs and executives convened to discuss how big data and artificial intelligence can be used to tackle the challenges faced by industry and society at Calcalist's annual Mind the Data conference
Calcalist's annual Mind the Data conference, held Tuesday at the Tel Aviv Convention Center, brought together Israeli entrepreneurs and executives to discuss how big data and artificial intelligence can be used to tackle the challenges faced by industry and society.

For daily updates, subscribe to our newsletter by clicking here.

Artificial intelligence and big data technology highlight inequality in the industry more than ever, said Karine Nahon, a professor of information science and president of the Israel Internet Association, a non-profit advocacy organization. The insights derived from such technologies change industry and consumer behavior, she said, but companies cannot make use of artificial intelligence without explaining to their customers what they are doing and how the information was obtained. "The industry is progressing to a place where the rule of power becomes more extreme, and the large companies become larger," she said. "We need to try and be more transparent, and to think how we hold a dialogue with the public."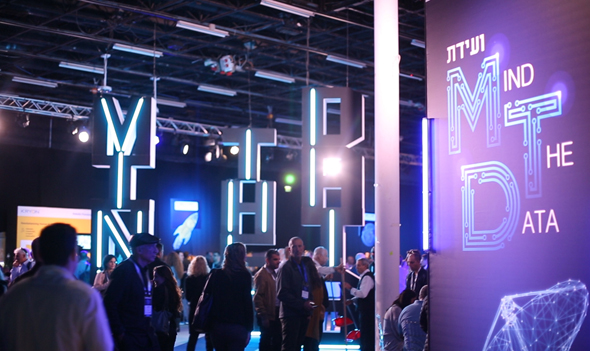 Calcalist's Mind the Data Conference. Photo: Tal Azulay

"The data world is undergoing a big change," said Amir Orad, CEO of business intelligence startup Sisense Ltd. "Companies are starting to sell insights as a product in itself. Data isn't used to manage the company better now, it is used to create something new. The next trend is insight as a service."

Data needs to be refined to be useful, said Amir Haramaty, chief commercial officer at data analysis company SparkBeyond Ltd. The company's system is used by companies for a range of objectives, from price prediction to fighting human trafficking. "What is important to us is not the insights AI systems generate, but their impact. To arrive at the correct conclusion, you need to ask the right question."

The "big boom" of big data is still ahead, said Eyal Barzilai, head of big data at Israel's Bank Leumi, but the finance industry is in a unique position due to the reluctance people show when it comes to using their personal data. AI could help banks help their customers in four main areas, he said: consulting, spending reduction, marketing, and customer service.

Industry 4.0 is going to completely change the face of the job market, said Harel Tayeb, CEO of bot-automation startup Kryon Systems Ltd. The increasing capabilities of artificial intelligence mean the world is progressing towards a future of virtual employees that will work alongside, or instead of, human beings. "We, as a society, need to ask ourselves how we will create value, and how we can use it to enable humans to do what they can do better than machines."

Hackers are using AI algorithms to get into banking systems, said Mark Gazit, CEO of Israel-based cybersecurity company ThetaRay Ltd. Traditional security systems are not equipped to handle the new and quickly evolving attacks, he said, meaning banks need to sift through and discard false alarms, which are the overwhelming majority of alarms. ThetaRay uses machine learning algorithms to detect system behavior anomalies and threats to financial institutions.

Looking forward, humanity needs to grow more food using the same amount of land, and one of the ways to do it is to reduce the percentage of crops lost as part of the growth cycle, said Ofir Schlam, co-founder and CEO of agricultural intelligence company A.A.A. Taranis Visual Ltd. Taranis operates an agriculture intelligence system that aggregates data from satellite images, sensors, and smart irrigation systems, to detect early signs of crop diseases, insect infestations, nutrient deficiencies, water damage, and other crop risk factors.

In the past, data crunch was a bottleneck that slowed innovation, said Shlomit Weiss, senior vice president of silicon engineering at chipmaker Mellanox Technologies Ltd. Today, technology enables the employment of big data in a way that drives innovation forward across all industries, she added.

Technology and art go hand in hand, and technologies change the way artists produce and sell their music, Israeli pop star and entrepreneur Ivri Lider said. Lider is co-owner of MyPart Inc., a Tel Aviv-based startup that lets artists offer their original songs, lyrics, music, translations, and visual art to successful musicians of their choice. "Artists can't hear thousands of songs, which makes it near impossible for little-known creators to reach them," he explained. "With big data and MyPart's AI-based search engine, we can narrow choices and offer only those most relevant to the artists."

Dotan Levy, Raphael Kahan, Meir Orbach, Omer Kabir, Adi Barak, Orna Yefet, and Omri Milman contributed to this article.