Mind the Data
Conversation Analytics Startup Gong.io Wins Calcalist's AI and Big Data Startup Competition
Gong.io gives sales representatives insights into their interactions with customers by analyzing recorded phone calls and tracking keywords and topics of conversation
Israel-based conversation analytics startup Gong.io Ltd. is the winner of Calcalist's and Microsoft's second annual artificial intelligence and big data startup competition. Jerusalem-based medical startup BrainQ Technologies Ltd. came in at second place. The winners were announced Tuesday at Calcalist's "Mind the Data 2018" conference in Tel Aviv.

For daily updates, subscribe to our newsletter by clicking here.

Gong.io won a visit to Microsoft's Seattle headquarters; a program of roundtable meetings with Microsoft executives and other stateside companies; and an invitation to take part in Calcalist's 2019 Berlin conference. The conference will include meetings with potential partners and investors.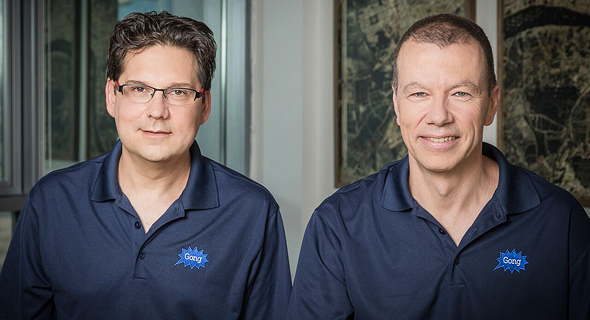 Gong co-founders Eilon Reshef (right) and Amit Bendov. Photo: PR

Founded in 2015 by Amit Bendov and Eilon Reshef, Gong.io gives sales representatives real-time insights into their interactions with customers by analyzing recorded phone calls and tracking keywords and topics of conversation. The company says its technology can cut the time it takes to train sales personnel from nine months down to five.

Second place winner BrainQ, Founded in 2011 by Yotam Drechsler, Yaron Segal, and Esther Shohami, will also be hosted at Calcalist's Berlin conference, and has also won 20 hours of financial advising by KPMG Israel, and 20 hours of business advising and mentorship from Israeli enterprise software company Kryon Systems Ltd.

BrainQ develops a headset that scans a patient's electric activity, and uses electromagnetic fields to simulate the way the central nervous system works and promote the natural recovery of the brain. The company aims to help patients with paralysis move their limbs without requiring surgery.

10 other startups made it to the final leg of the competition: Abilisense Ltd., which develops AI-based sound identification technology; agriculture technology startup CropX Inc.; Equalum Ltd., which develops a data beaming platform; customer analytics startup Glassbox Digital UK Ltd.; Infime Ltd., which operates an online lingerie-selling platform that allows shoppers to virtually "try on" items via data-based body simulation; Leaperr AI, which developed an interior design software that can quickly generate custom-made interiors; Smart mobility startup NoTraffic Ltd.; OncoHost Ltd., which develops personalized treatment strategies for cancer patients; data management service Panoply Ltd.; and talent acquisition startup Stellares, listed as Stellar A.I. Inc.

The competition was judged by Microsoft Israel General Manager Shelly Landsman; Eyal Niv, a managing general partner at venture capital firm Pitango; Vertex General Partner Emanuel Timor; Sivan Shamri Dahan, co-founder and partner of Israeli late-stage venture firm Qumra Capital; Daniel Shinar, CEO of Tel Aviv-based venture investments firm ClalTech; Yodfat Harel Buchris, managing director at Blumberg Capital Israel; Moran Ben Gigi, head of data and analytics at KPMG Israel; and Eyal Barzilai, head of big data at Israel's Leumi Bank.