Israel Announces Designated Embassy District in East Jerusalem
As more countries express willingness to move their embassies from Tel Aviv to Jerusalem, the Israeli Government is constructing an embassy hub on 25 acres
As more countries express willingness to move their embassies from Tel Aviv to Jerusalem, the Israeli Government is constructing an embassy hub in East Jerusalem.
For daily updates, subscribe to our newsletter by clicking here.
"Make the move quickly, the best places are going to be taken quickly," Israeli construction minister Yoav Galant said in a statement Wednesday.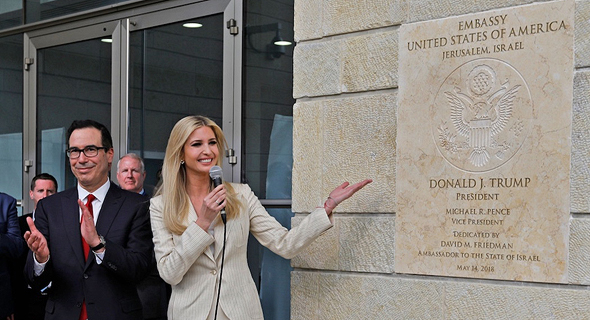 Ivanka Trump at the American Embassy opening in Jerusalem. Photo: AFP

Galant announced plans to build an embassy complex in the East Jerusalem neighborhood of East Talpiot, also known as Armon HaNetziv, which will house nine separate embassies. The new embassy quarter is expected to be built across 25 acres and will include embassy facilities as well as housing for embassy staff.

During the Six Day War of 1967, Israeli forces annexed East Talpiot. The United Nations Truce Supervision Organization (UNTSO) headquarters is located in the neighborhood, regarded by most countries as an Israeli settlement.

In May, the American embassy relocated from Tel Aviv to East Talpiot in Jerusalem.

To date, only the United States and Guatemala have official embassies in Jerusalem. Paraguay moved its embassy to Jerusalem but reversed its decision three months later in September. Last month in a speech at the Israeli parliament, Czech President Milos Zeman acknowledged that he does not have the authority to relocate the Czech embassy to Jerusalem, but promised to do his best to get it done.

Australian Prime Minister Scott Morrison announced Saturday that Australia was officially recognizing West Jerusalem as Israel's capital. However, a factious embassy relocation from Tel Aviv will not occur until a peace settlement is achieved, Morrison said.

Morrison's government will establish a defense and trade office in Jerusalem and will start looking for a pertinent site for the embassy in the meantime.

The U.N. and most countries in the world including Australia have not recognized Israeli sovereignty over East Jerusalem.

Bahraini minister Sheikh Khalid bin Ahmed al-Khalifa rejected the Arab League position in a tweet published Saturday. "Australia's stance does not impact the legitimate Palestinian demands," he wrote, adding that recognition of West Jerusalem as the Israeli capital was in line with the vision of the Arab Peace Initiative to resolve the Israeli-Palestinian conflict.

In a short statement, Israel's Ministry of Foreign Affairs called Morrison's decision to open a defense and trade office in Jerusalem "a step in the right direction" on Saturday.