Work Hard, Play on Your Own Time
Some Israeli startups choose to separate leisure from work, forgoing the gaming and recreation rooms associated with tech culture
Gaming rooms, yoga and pilates rooms or just plain old gyms, music rooms, ping pong, and pool tables, and nap areas—a tour of the facilities occupied by startup companies can make you think: do employees come here to work, or are they expected to simply move in full time?

For daily updates, subscribe to our newsletter by clicking here.

In-office perks and benefits—first introduced about a decade ago by industry juggernauts such as Facebook and Google—have become a standard even for smaller companies. They come with an implied price tag: the company makes sure workers have everything they need in the office, and, in exchange, expects employees to stay at work longer.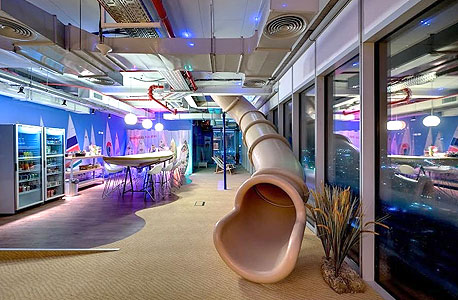 A slide leading to a furnished dining area at Google's Tel Aviv office. Photo: Itay Sikolski

Some Israeli companies, however, choose to separate leisure from work, forgoing their recreation rooms, or never set them up in the first place.

Ilan Stern, vice president of human resources at Tel Aviv-based cybersecurity startup GuardiCore Ltd., thinks clear boundaries between working hours and free time are essential. The first should be dedicated to helping the company achieve its goals, the second to family and leisure, he said in a phone interview with Calcalist last week. With additional offices in London and San Francisco, GuardiCore has about 50 employees according to Seattle-based market research company Pitchbook.

"When the office has so many escape options, an employee's ability to finish their work and go home on time dramatically decreases, making it legitimate for companies to demand longer hours," Stern said. Eventually, blurring work and free time can make for a poorer life quality, he added.

When data-based marketing company Optimove, incorporated as Mobius Solutions Ltd., designed the Tel Aviv offices it moved to earlier this year, it also chose to stick to an all work and no play model.

"Nap rooms are not going to make employees more passionate, they are just going to make them spend more time in the workplace, which is something that hurts their personal lives and creates an imbalance," Amit Bivas, a vice president of global marketing at Optimove said in a phone interview last week.

Some Optimove employees get in at 7 a.m. and leave at 3 p.m. but most of them arrive at the office between 9 a.m. and 10 a.m. and leave at around 7 p.m., Bivas said. This means that, as is the case with many other startups, most employees still regularly put in overtime, spending about 10 hours at work every day, 90 minutes above Israel's official 8.5-hour work day. As long as an employee takes care of their responsibilities, nobody is going to be checking their attendance, Bivas said.

Optimove employs around 200 people in offices in Tel Aviv, New York, and London, according to Pitchbook data. In London, employees are much more protective of their life-work balance than in New York and Tel Aviv, Bivas said. If they are given the option to do so, employees will go for a better life-work balance, he said. Making the case even easier, employees that have a better life-work balance are more productive, he said.

Austerity can be more measured at other companies. Tel Aviv-based music teaching apps developer JoyTunes Ltd. has four music rooms in its offices, but these are just part of the job. However, the startup also has a yoga room, and the company's CEO Yuval Kaminka considers adding a ping pong table. "These are meaningless perks," he said in a phone interview last week.

"We work fast, for long hours. You don't want employees to burn out in a month," Kaminka said.

Employees leaving work early can continue to work from home at night, he added.