Interview
Economy, Not Just Iranian Influence, Drives Gulf-Israel Relations, Says Advisor to Bahraini King
Rabbi Marc Schneier, Special Advisor to the King of Bahrain, estimates that in 2019 at least one Gulf state will establish diplomatic relations with Israel
For years held under partial secrecy, Israeli ties with Gulf states have taken a public leap forward in the last several months, with a bevy of official state visits and stark declarations by Israeli Prime Minister Benjamin Netanyahu. These proclamations align with statements coming from Rabbi Marc Schneier, a frequent visitor to the courts of Gulf rulers and a Special Advisor to the King of Bahrain.

Speaking at an Israeli innovation summit in October, Netanyahu hinted that neighboring states are cozying up to Israel. The following day he arrived in Oman, becoming the first Israeli official to publicly visit the country in more than twenty years.

For daily updates, subscribe to our newsletter by clicking here.

Netanyahu's recent visit to Oman was followed by the playing of Israel's national anthem for the first time in Abu Dhabi in the presence of Israel's Minister of Culture and Sport Miri Regev. Israeli Minister of Transportation Yisrael Katz traveled to Oman to discuss building a railroad between Israel and the Gulf in November.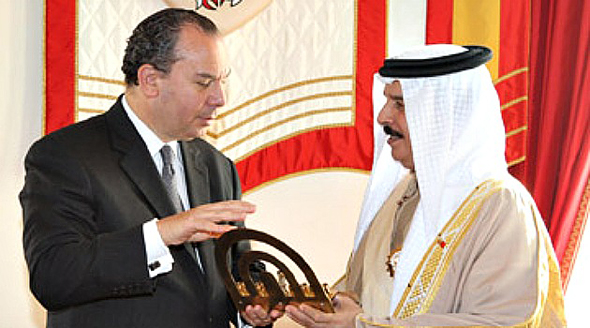 Rabbi Schneier with Bahraini King Hamad bin Isa Al Khalifa. Photo: PR

Israel is at a process of "normalization with the Arab world without progress in the diplomatic process with the Palestinians," Israeli leader Netanyahu said Sunday.

In February, Schneier led the first ever Jewish Congregational mission to an Arab Gulf state. The delegation was invited by King Hamad bin Isa Al Khalifa of Bahrain, the only Gulf nation with a Jewish community and a synagogue. An author of several books on the subject, Schneier describes himself as an interfaith leader. The son of a prominent U.S. Rabbi Arthur Schneier, he founded The Hampton Synagogue located in New York's Westhampton Beach.

Among the Gulf state leaders he met with in the past are the Emir of Qatar, Sheikh Tamim bin Hamad Al Thani, and UAE Minister of Tolerance Sheikh Nahyan. The "common wisdom" that regional alliances against Iran are the main driver for the warming ties with Israel misses the mark, Schneier said, based on these meetings.

In an interview with Calcalist held Sunday in Tel Aviv, Schneier predicted that Bahrain will be the first of the Gulf states to officially establish diplomatic relations with Israel, and believes this will occur in 2019. Based on closed-door meetings he's had with other Gulf leaders and foreign ministers, he estimated that Bahrain may not be the only Gulf state to do so this coming year.

Recently, some Gulf leaders have publicly increased their support of Israel.

Earlier this month, Bahraini minister Sheikh Khalid bin Ahmed al-Khalifa rejected the stance taken by the Arab League against Australia's official recognition of West Jerusalem as Israel's capital. In a Tweet published earlier this week, he asserted that recognition of West Jerusalem as the Israeli capital is in line with the vision at the heart of the Arab Peace Initiative to resolve the Israeli-Palestinian conflict.

While the Palestinian issue remains a priority for Gulf rulers, at least some believe they can have relations with Israel in parallel to relations with the Palestinian Authority, Schneier said.