Report: Rafael's Drone Detection System Got Gatwick Off-the-Ground
London Gatwick, the country's second-busiest airport, was closed for more than 36 hours on Wednesday and Thursday after drones were spotted flying over its airstrip
Israeli defense contractor Rafael Advanced Defense Systems Ltd.'s anti-drone system brought London's Gatwick airport back into action after being shut down for 36 hours, the Daily Mail reported Saturday.
For daily updates, subscribe to our newsletter by clicking here.
London Gatwick, the country's second-busiest airport, was closed for more than 36 hours on Wednesday and Thursday after drones were spotted flying over its airstrip. More than 750 flights were canceled and 124,000 passengers were affected. The incident ended with no casualties or damage to property, but cost tens of millions of dollars to airlines and passengers.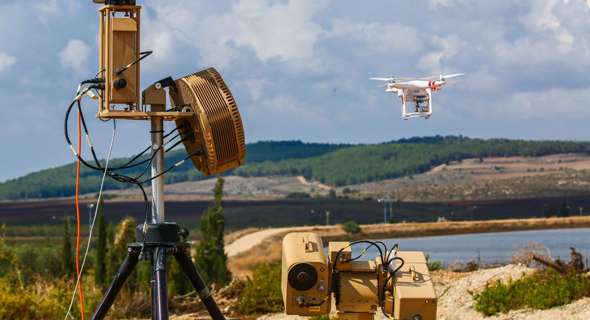 Rafael's Drone Dome system. Photo: Rafael

On July 30, the U.K. made it against the law to fly drones within 1 kilometer of an airport.

The British Army bought six of Rafael's anti-drone system, marketed under the brand name Drone Dome, for more than $25 million in August, a spokeswoman for Rafael confirmed to Calcalist at the time. The British Army uses the systems in Syria to stop ISIS UAVs.

Rafael, one of Israel's largest defense contractors, describes the Drone Dome as a system designed to detect, track and potentially neutralize drones flying in no-fly areas. The system has a detection range of more than 16 kilometers, and in some versions, it comes with a high-powered laser which can destroy drones. The systems acquired by the British Army did not include the drone destruction laser.

Just last week, a drone hit the bow of a Boeing 737 loaded with passengers in Mexico while landing in Tijuana.