Tel Aviv-Listed Cannabis Stocks Reap Benefits of Israeli Export Reform
Cannabis stocks are soaring on the Tel Aviv Stock Exchange after Israel's parliament passed on Tuesday a long-awaited medical cannabis export reform
Cannabis stocks are soaring on the Tel Aviv Stock Exchange after Israel's parliament passed on Tuesday a long-awaited medical cannabis export reform, though the reform is still pending government approval.

For daily updates, subscribe to our newsletter by clicking here.

On Tuesday, the Israel Securities Authority issued a warning about trade in speculative cannabis stocks, as most of the traded companies have future plans and memorandums of understandings rather than actual operational businesses in the domain.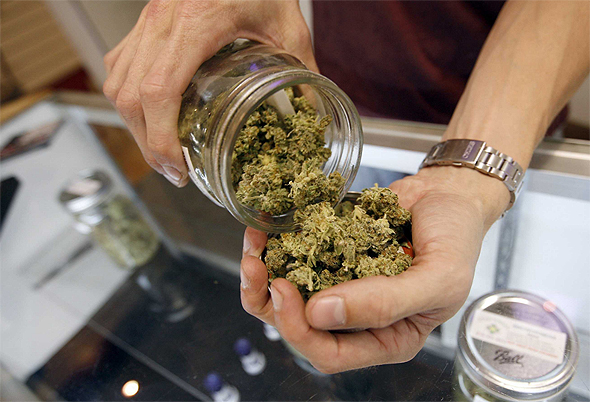 Medical cannabis. Photo: Getty Images

Investors remained undeterred.

Israel-based cannabis company Medivie Therapeutic Ltd. climbed 32.7% on Tel Aviv by Wednesday market close and is currently trending up. Together Pharma Ltd. rose 60.2% and is also currently trending up. Both companies have yet to set up actual farming operations, but have already reported production and export deals signed.

Together was fined NIS 30,000 in October for offering securities to the public without an authorized prospectus. The company has been preparing for approval of the long-awaited reform for some time, Together's CEO Nissim Bracha told Calcalist in an interview Wednesday.

Medical cannabis company InterCure Ltd., chaired by former Israeli Prime Minister Ehud Barak, rose 23.5% by Wednesday market close, making for a 1230.5% increase since the beginning of 2018. Tefen Industrial Engineering Management and Systems Analysis Ltd., which pivoted to cannabis earlier this year, rose 9% over the past two days. Both companies are currently trending up.

Privately-held Israeli medical cannabis cultivator and supplier Tikun Olam Ltd., founded in 2005, has recently acquired land, and farming and export permits in Greece, seeing Israeli lawmakers dragging their feet with the local reform. Once the reform is approved by the government, the company will be ready to bring its produce to markets other than Israel, CEO Aharon Lutzky told Calcalist Wednesday.