Tel Aviv Greenlights Long Awaited Construction Project in the City's Largest Plaza
Surrounded by posh fashion boutiques but suffering from years of neglect Kikar Hamedina is Tel Aviv's largest plaza and one of its most expensive eyesores
Tel Aviv's largest public plaza, Kikar Hamedina, is set to be replaced by four new towers in the next few years. The massive building project received a green light from the city to begin excavation and revetment, people familiar with the matter who spoke on condition of anonymity told Calcalist Sunday.
For daily updates, subscribe to our newsletter by clicking here.
The construction plan, originally approved in October 2017, includes three 40-story towers with 450 residential units and a 10-story building for public uses.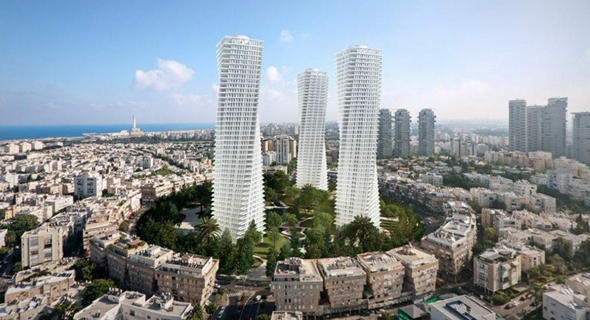 Simulation of the Kikar Hamedina project. Photo: 3DVISION
Construction work is still pending, as a contractor is yet to be selected, the people familiar with the matter said.
Currently the location of a poorly maintained park, Kikar Hamedina is considered an eyesore at the heart of one of Tel Aviv's most expensive neighborhoods. Surrounded by posh fashion boutiques and other high-end stores the plaza is known for its decades-long neglect. Several previous plans to build on the site faltered over the years, due mostly to disagreements between its nearly 200 landowners, each holding a piece of the property, and to pressure from local residents and business owners.