Video
Scrapped London Skyscraper Set to Dominate Tel Aviv Skyline
A tower ditched mid-construction in London in the 2008 economic downturn is now being resurrected in Tel Aviv in a midst of an unprecedented tech boom in the city
Over the past two decades, Tel Aviv's skyline has changed dramatically. Until recently, a coastal city of 5-story Bauhaus buildings with just a few skyscrapers decorating its skyline, the city began sprouting towers one after another, each competing to be the city's tallest, most impressive, and most innovative building. The most iconic were, and perhaps remain, the Azrieli geometric triplets that rose a few miles east of the city's shoreline. Now, they are set to be joined by a fourth tower, to rule them all.

For daily updates, subscribe to our newsletter by clicking here.

The first two Azrieli towers were completed around 20 years ago: a circle-shaped 49 stories building, adjoined with a 46 stories triangle-shaped tower. Known as the Azrieli Center, the two were later joined by a third square-shaped 42 stories tower completed in 2007.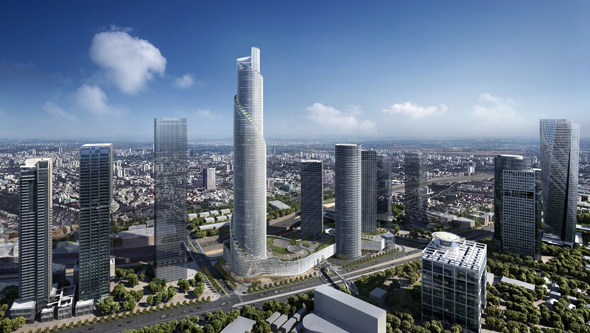 Simulation of the fourth Azrieli tower. Photo: KPF
The fourth tower is set to dwarf its elder siblings. The design for the spiral-shaped 91 stories skyscraper was revealed at a press conference held Wednesday in Tel Aviv by Azrieli Group, the Israel-based developer behind the towers. Preliminary construction work is already underway at the property formerly occupied by Israeli newspaper Yedioth Ahronoth, adjacent to Azrieli Center.
The new Azrieli tower strikingly resembles a scrapped London tower designed by the same architecture firm, New York-headquartered Kohn Pedersen Fox Associates. The Pinnacle tower was planned to be erected in the City of London financial district, reaching 288 meters, but construction was halted a year after it began due to the recession in 2008. Revised plans for a 255-meter tower of a different design were approved in 2017. Replying to a question by a reporter from Israeli lifestyle magazine Xnet, the architects confirmed the similarities but said the design was adjusted to better suit the Tel Aviv skyline and the Azrieli Center.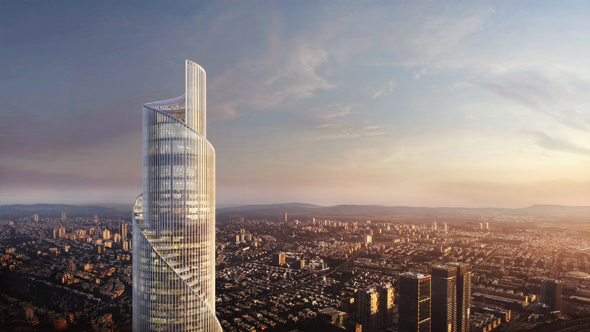 Simulation of the fourth Azrieli tower. Photo: KPF

Construction of the new Azrieli tower is expected to take between six and seven years and is estimated to cost about NIS 2.5 billion (approximately $665 million).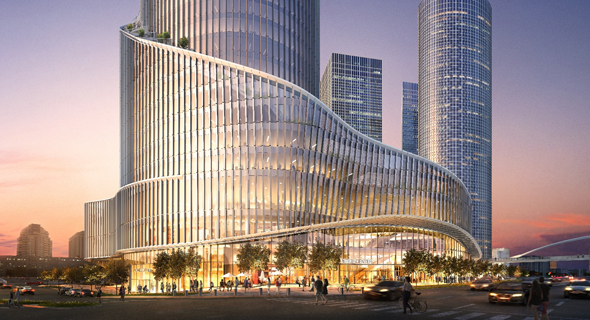 Simulation of the fourth Azrieli tower. Photo: KPF
At 350 meters, the new tower will be Israel's second tallest building, surpassed only by a 100-story, 400-meter tall high-rise currently under construction on city-owned property on the eastern outskirts of Tel Aviv. Called the Bein Arim Tower, the high-rise is scheduled for completion by 2023.